Posted on
Sun, Oct 17, 2010 : 8 a.m.
Original painter restores Ann Arbor's famous mural featuring Woody Allen
By James Dickson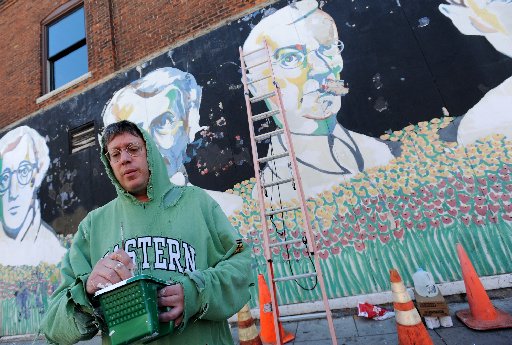 Melanie Maxwell | AnnArbor.com
Richard Wolk took a sip of his Starbucks latte, looked out the window, and knew something was not right. Not with the latte, but with the mural he had painted 26 years ago of five famous writers, near the corner of East Liberty and South State streets.
"I don't know how often they'd had it touched up, but there were a lot of serious cracks forming in the paint," Wolk recalled. Paint was chipping in important sections, like the eyes and mouths of the writers. "I felt that if I didn't fix it soon, it was probably going to have to be replaced," he explained, and he didn't want some amateur trying it. "This isn't a simple re-touch; you need someone who knows that they're doing out there, or you could ruin the whole thing."
Not that Wolk is particularly fond of the piece. The painter of Ann Arbor's best-known mural now lives in West Bloomfield and works as a process server. While he's appreciative of the public response the mural has received, including a prominent placement in advertisements for the locally produced film "Answer This," it's not exactly what he would call "creative," Wolk said, and besides, he's not really much into art anyway. When he's not serving court papers Wolk spends his time learning guitar, which he considers a higher art form.
Wolk, a University of Michigan graduate, approached the management at David's Books in early 1984 about replacing the bookstore-related mural with something a bit more fun: actual authors. He started work that March.
Left to right, the authors featured in the mural are Woody Allen, Edgar Allen Poe, Herman Hesse, Franz Kafka and Anais Nin.
Allen is the only filmmaker of the five; Wolk chose him because of the mural's proximity to both the State and Michigan theaters. "Woody also wrote a book, 'Without Feathers,'" Wolk insisted, "so he definitely counts."
Wolk chose Nin because his girlfriend at the time liked her writing, and he wanted to have at least one woman. Hesse was the only writer who influenced Wolk at the time, though he was familiar with Poe and has gone on to appreciate Kafka.
As Wolk retouched the mural in late September he was approached by a number of passersby, offering their praises and their hands for shaking.
One man was upset as he repeated a rumor he'd heard, that the mural would be whitewashed and replaced. But the decision to retouch the mural means that weather is its only threat at this point, according to Oxford Property Management, which manages the building. Wolk expects the mural, which was never been named (more on that below), to last another 10 years before needing more work, and said he'd be glad to touch it up again. But if Oxford wants a different mural for the wall, Wolk said he'd pass that opportunity on to a younger artist.
Jeff Hauptman, CEO of Oxford Property Management, told AnnArbor.com that he consulted with a number of local historians about what to do with the mural. Some said to keep it, another said that the old bookstore mural under the writers should be restored, that Wolk's work had only been up a quarter of a century. But there was no consensus.
Hauptman got his answer when Wolk approached Oxford about doing the retouching. He knew he'd made the right choice when he saw the mural featured on the front cover of September's Ann Arbor Observer.
"All this back-and-forth, all this discussion, then the artist chooses to approach us, and the mural makes the front page of the Observer. Taken together, we felt that the community had spoken."
And now Oxford Property Management wants the community to speak again. The mural has no name and the company is considering whether and what to name it. Offer your suggestions. Take our poll.