Posted on
Tue, Feb 14, 2012 : 2:59 p.m.
Ouimet leads the way in campaign fundraising with more than $111K on hand
By Ryan J. Stanton
State Rep. Mark Ouimet, R-Scio Township, has more than $111,600 on hand for the 2012 election cycle, according to new campaign finance reports.
With election season picking up, candidates throughout Washtenaw County are raising and spending thousands on their campaigns.
Ouimet reported raising more than $125,400, making him the second most successful Michigan House lawmaker in funds raised this election cycle.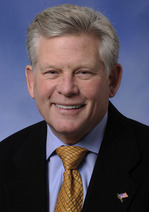 Ouimet, who is seeking a second term representing the 52nd District, gave more than $60,000 of his own money to his campaign. He has spent more than $43,800.
Saline Mayor Gretchen Driskell is considering running against Ouimet as a Democrat but hasn't reported raising any money.
State Rep. Jeff Irwin, D-Ann Arbor, has raised a little more than $8,200 and spent about $6,500 since January 2011 in his effort to seek a second term representing the 53rd District.
So far no challengers for Irwin's seat have emerged. Counting money previously raised, Irwin now has about $11,200 on hand.
State Rep. David Rutledge, D-Superior Township, has about $6,500 on hand and is currently running unopposed.
Since January 2011, he has raised nearly $14,600 and has spent more than $8,300 in his effort to seek a second term representing the 54th District in eastern Washtenaw County.
Candidates were required to file campaign finance reports with the Michigan Secretary of State on Jan. 31 disclosing campaign funds raised in 2011.
Adam Zemke, a Democrat from Ann Arbor, out-raised his opponents in the race for the 55th District House seat with more than $20,100, including $10,000 from his own pocket. He has spent virtually none of that money and still has more than $20,000 on hand.
Ann Arbor resident Bob Davidow, another Democratic candidate facing off against Zemke in the August primary, raised $2,146. He now has $2,041 on hand.
Rep. Rick Olson, the incumbent Republican who currently represents the 55th District, reported raising $14,944 and spent $11,656. He now has $3,828 on hand.
Campaign finance reports for candidates for local races for the Ann Arbor City Council and Washtenaw County Board of Commissioners are available on the county's website.
The reports show a battle is heating up for the open 7th District seat on the county board with Ann Arbor resident Andy LaBarre having raised $5,440 to Christina Montague's $1,282. The 7th District is on the east side of Ann Arbor.
Montague's campaign is self-funded. Except for $1,000 of his own money, LaBarre raised his money from donors including County Commissioner Leah Gunn, former County Commissioner Kristin Judge, Sheriff Jerry Clayton, Road Commissioner Doug Fuller and others.
Newly appointed County Commissioner Felicia Brabec, a Democrat from Pittsfield Township who is set to face off against Republican Richard Conn in a special May 8 election, signed a waiver indicating she planned to raise and spend less than $1,000 and so did Conn.
Ryan J. Stanton covers government and politics for AnnArbor.com. Reach him at ryanstanton@annarbor.com or 734-623-2529. You also can follow him on Twitter or subscribe to AnnArbor.com's email newsletters.