Posted on
Sat, Dec 4, 2010 : 4:34 p.m.
Paid on-call fire department proposal draws interest from Ann Arbor officials
By Ryan J. Stanton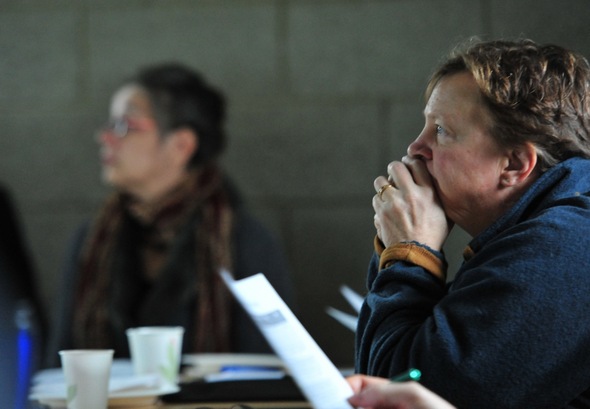 Ryan J. Stanton | AnnArbor.com
Ann Arbor officials say they're open to considering implementation of a new paid on-call firefighting system as an option for cutting costs at the Ann Arbor Fire Department.
The idea emerged today during an all-day city budget retreat as city officials brainstormed ways to address future shortfalls in the city's budget.
The city's general fund budget currently totals $81.45 million. The fire department, with 89 full-time employees budgeted this year, accounts for about $13.8 million of that.
Police Chief Barnett Jones, who serves as the city's public safety services administrator, said there are three kinds of fire departments throughout the country: Career departments made up of full-time employees, volunteer departments and paid on-call departments.
Due to economic conditions, Jones said, many cities are moving in the direction of a hybrid solution, blending existing career departments with on-call firefighters to reduce costs. He said Troy is the largest example of such a setup in Michigan.
According to the city of Troy's website, the city's fire department there has 11 sworn and one civilian career staff members and an authorized strength of 180 volunteer firefighters.
"In most communities, they have a paging system," Jones said of fire departments utilizing the paid on-call approach. "They have people who are certified firefighters. And when there's a call, it goes out, their pagers are alerted, and they all respond to the scene. Someone from the station brings the vehicle apparatus to the scene and they fight the fires."
Mayor John Hieftje and City Administrator Roger Fraser both expressed interest in the idea, as did some council members. They said the number of fire-related calls in Ann Arbor has been on a downward trend for many years.
"So it's time for us to evaluate it at least," Fraser said of switch to a paid on-call system. "We do think it's something worth evaluating."
"We're lagging sort of behind the industry best practice," said Council Member Stephen Rapundalo, D-2nd Ward, referring to other cities using paid on-call systems.
Jones, who went through fire safety training this past year and is now formally certified to be a firefighter, said it's nothing more than an option to consider at this point.
He said the idea hasn't been discussed yet with the staff of the fire department, but he "absolutely" expects resistance from city firefighters.
Dominick Lanza, the city's fire chief, was not in attendance at today's meeting. A representative of the firefighters union could not be reached for comment.
Asked how a paid on-call system might work in Ann Arbor, Jones said he won't even begin to broach that topic.
"That's something we have to sit down and talk about," he said. "The fire chief will be central to that and that discussion point will come from a policy made by City Council and the mayor. They have to make the policies on this. It's in their court."
Ryan J. Stanton | AnnArbor.com
Fraser said there's evidence that paid on-call systems are working well in other communities, and "it's certainly something that will be talked about" for Ann Arbor.
"I can tell you when I was in Minnesota, in the entire state of Minnesota, there were only five, maybe only four, full-time paid fire services. Everything was paid on-call or volunteer," he noted.
"The issue that's in front of us, I believe, is to reconsider what we're doing and be open-minded about what the appropriate outcomes ought to be," he said. "At this point, what we're trying to do is get a specific set of understandings about what it is we do and what the alternatives may be, and then take that conversation to the community."
Neither Fraser nor Jones had estimates of what it could save the city to switch to a paid on-call system.
Hieftje said Troy is a "really good laboratory" for Ann Arbor to study.
"I think it's worth investigating what is going on there," he said, adding that Troy seems to be doing fine with the system. "I think that we owe it to our citizens to explore all options, and if there's a very highly ranked community not very far away over in Troy, it's easy for us to take a look."
Due to labor contracts, city officials said it likely would take a long time to implement a paid on-call system, but Fraser said the city has to start somewhere.
Fraser said fire suppression now accounts for less than 10 percent of how city firefighters spend their time — much of it is spent responding to emergency medical calls, he said.
He said the city is in negotiations right now to have Huron Valley Ambulance, a nonprofit community agency, assume responsibility for handling all emergency medical calls in Ann Arbor, ending the fire department's role in such matters.
Council Member Mike Anglin, D-5th Ward, said the city needs to be upfront with the public about its intentions for the fire department. He predicts the issue could turn political in a hurry.
One thing is certain, Rapundalo said: "We cannot sustain the path that we're on."
Ryan J. Stanton covers government and politics for AnnArbor.com. Reach him at ryanstanton@annarbor.com or 734-623-2529.