Posted on
Thu, Jan 19, 2012 : 5:59 a.m.
Parents fight for reinstatement of teacher at Ann Arbor Learning Community
By Danielle Arndt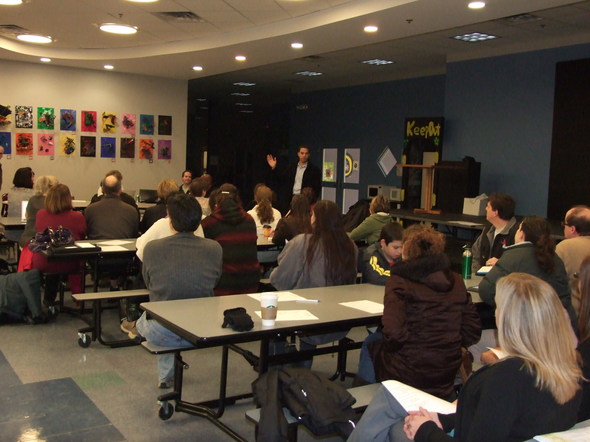 Danielle Arndt I AnnArbor.com
The mandatory administrative leave of a beloved teacher at
Ann Arbor Learning Community
had parents demanding information Tuesday at the charter school's
Board of Directors
meeting.
Parents say the teacher's forced absence is the third instance of this nature that the school has experienced in less than a year. The previous two instances resulted in favorite teachers being permanently removed from their classrooms, said Pamela McElmeel, mother of an AALC pupil.
"I am here tonight in support of all the teachers here. Every one of them is outstanding," she said, adding if this pattern of firing good teachers without good cause continues, the school will fall apart.
Board members received and responded to emails and letters sent over the weekend — about 25 in total — from upset parents, staff members and even a couple of children regarding how disciplinary action with the aforementioned teacher was handled.
But most significantly, the incident has parents of AALC questioning the power and role of third-party human resource provider, Michigan Educational Personnel (MEP) Services.
Hiring and firing decisions

While AALC is a self-managed charter school, it contracts with Brighton-based MEP for its teachers and staff, said
Malverne Winborne
, director of
Eastern Michigan University
's
Charter Schools Office
.
"MEP hires and places the employees," Winborne said.
EMU is the authorizer of AALC, a K-8 school that was founded in 1997.
According to its website, MEP is a professional employment organization with the focus of "providing excellent human resource management services and employee administration services" so the schools it helps can focus on educating children.
Carlie Lockwood, vice president of human resources for MEP, described the company's role as similar to that of a superintendent and his cabinet within a traditional public schools district.
AALC does not have a superintendent or any top-tier administrators, only a dean and the Board of Directors.
"Except the board cannot evaluate the school leader," Lockwood said. "The dean is our employee. … Through the dean, we make the hiring and firing decisions."

Lockwood stressed MEP works very closely with the dean, who is responsible for conducting teacher evaluations. However, as the human resource arm of the schools it contracts with, MEP conducts all staff disciplinary investigations.
While Lockwood could not discuss the review process of the employee in question, she ensured the public the investigation would be completed as soon as possible and acknowledged the situation must be "understandably frustrating" for parents.
Rallying the troops
About 35 parents attended Tuesday's board meeting to protest the removal of teacher Wendy Nagle and to insist she be allowed to continue teaching at AALC.
A typical meeting draws three to five parents of the school's approximately 260 students, said Board President Simon Whitelocke.
"Mrs. Nagle has done a great job of steering (our son) and has caused his academics to bloom," said one father, James Goebel.
In their letters to the board, other parents threatened if Nagle was not reinstated, they would drop their children off 10 minutes late for class or keep them home on Count Day, Feb. 8.
Nagle was placed on leave last week by former Dean Ticheal Jones following an incident where she allegedly dropped a book on a child's head after an altercation with the child.
The child's father, David Simmons, said he believes the incident was an accident and he expressed discontent with the school for not asking him if he and his wife desired to pursue the situation.
"About two years ago, when we first considered moving our daughter to Ann Arbor Learning, we found ourselves observing in Wendy (Nagle's) classroom. She was a major part of our decision to come here," Simmons said.
Jones left AALC Wednesday for personal reasons after three and a half years at the helm, Whitelocke said.
Better communication and accountability
The actions against Nagle and the two previous teachers taken during Jones' tenure have caused several community members to question the accountability parents can expect of their future dean, especially considering the board has no direct oversight of him or her.
"As adults, we understand that employees sometimes don't make benchmarks … As adults, we understand certain procedures must be followed," said parent Claire Sparklin. "As an adult, I am capable of understanding that MEP is merely doing the job they are paid to do. But my children are not adults."
She said her kids are being taught that no matter how connected they are to their teacher, no matter how talented that teacher is, that teacher still can be taken away.
"This is disruptive to students' education," Sparklin continued. "Children need stability."
Vice President Valerie Mates said a number of parents suggested soliciting input annually from the community on the dean's performance. But Whitelocke was more cautious.
Danielle Arndt I AnnArbor.com
"One of the assets charter schools have is a lot of parental input," he said. "But the question is how do we harness that? … It seems to me we keep stubbing our toe on this issue."
He recommended the board work on drafting a pamphlet or other informational pieces to outline the specific roles of the board, the dean, the employment organization and the public.
Also on the agenda for next month's meeting will be recommendations from the school's communications committee, consisting of board members, parents and teachers, on how to best get the word out to parents, especially when a teacher is no longer going to be in a classroom.
The committee was established in summer 2011 following an incident involving a teacher, Mates said. She added the committee is putting together a "script" to follow if a teacher must be disciplined.
Parents at Tuesday's meeting said they were not adequately notified of Nagle's departure nor were they informed about who would be teaching their children in her absence.
In the coming months, MEP will be collecting resumes on behalf of the charter school for a new dean. Interim Dean Bill Morgan said the most important step of the process will be "determining what is it the constituents want, what the staff and parents want."
Morgan was brought in by MEP to fill the open position temporarily. He served as the interim dean four years ago as well, prior to the board approving Jones.
"We will get it right," he said.
Staff reporter Danielle Arndt covers K-12 education for AnnArbor.com. Follow her on Twitter @DanielleArndt or email her at daniellearndt@annarbor.com.