Posted on
Sun, May 30, 2010 : 6:01 a.m.
Patricia Lesko's bid for Ann Arbor mayor gaining support, despite false campaign messages
By Ryan J. Stanton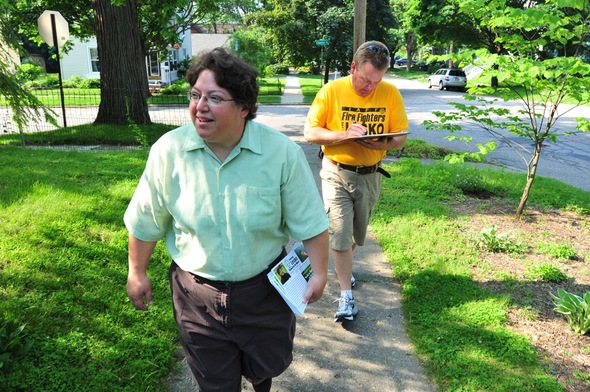 Ryan J. Stanton | AnnArbor.com
After knocking on hundreds of doors over the past five weeks, Ann Arbor mayoral candidate Patricia Lesko has her sales pitch down.
She starts with a soft introduction. If she thinks she's made a connection, she quickly switches gears and launches into a full-throated speech on everything she says is wrong with city government in Ann Arbor.
"I'm not willing to tell you what you want to hear to get your vote, and I never will be," she told residents on Gott Street while campaigning Thursday.
"I lived in Italy for three years and there's a great saying," Lesko added, beginning to speak in Italian: Better the ugly truth than a beautiful lie. "So I want to lead a city government where we tell the ugly truths."
The mayoral race to date certainly has been ugly, with Lesko's scathing criticisms of Mayor John Hieftje spelled out all over her blog, A2Politico.com. But whether there's truth in advertising with Lesko's campaign message is debatable.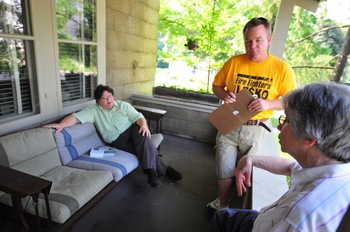 Ryan J. Stanton | AnnArbor.com
Lesko frequently plays fast and loose with the facts when discussing city spending. For instance, she told residents while going door-to-door on Thursday that the City Council gave City Administrator Roger Fraser a 35 percent raise.
"The city administrator's salary was raised 35 percent while our city slid into deficit, our roads crumbled, and the Stadium bridge fell down," she said. "Unless our city is AIG, which it is not, that should never have happened."
Beyond the fact that the Stadium bridge hasn't fallen down, Fraser's salary has risen just 9.3 percent since he was hired in 2002. It's grown from $133,000 to $145,354.
Even factoring in an $8,386 cash perk Fraser pocketed this year, his pay still is only 16 percent more than it was eight years ago.
In another encounter Thursday, Lesko told a 76-year-old woman on Fountain Street that the City Council just laid off police officers and firefighters.
"The department that buys the city's pencils and pens, they have a surplus in their fund of $1.5 million," Lesko said. "Now we just laid off firefighters and police because we were supposedly short $1.5 million."
Lesko later admitted that's not technically true. In fact, Hieftje and the council made changes to the city's 2010-11 budget this month that saved police officers from layoffs, and only five vacant positions in the department were cut. Layoffs also will be avoided in the fire department if three or four senior firefighters retire.
Lesko, a 49-year-old Dearborn native who came to Ann Arbor in the 1980s to study at the University of Michigan, is running to unseat Hieftje, Ann Arbor's mayor for the last decade. The two will face off in the Aug. 3 primary.
Hieftje has been the subject of criticisms for several months on A2Politco.com, which Lesko ran anonymously under the pseudonym "Sam Rosenthal" until announcing her candidacy. Lesko made up a background story, presenting Sam Rosenthal as a real person with experience in politics, but eventually confessed to AnnArbor.com in February that she was behind the fiery blog that likened Hieftje to Satan.
Hieftje said it's unfortunate that while he's spent the last several months working on the city's budget, Lesko has been spreading untruths.
"It's been my experience going back to her many months as an anonymous blogger, attacking the city and members of council, that it wasn't very truthful," he said. "But I really believe that Ann Arbor voters are some of the most intelligent that you'll find anywhere, and they'll figure it out."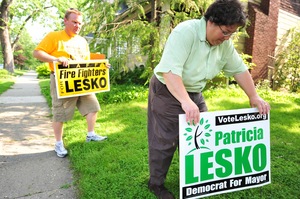 Ryan J. Stanton | AnnArbor.com
Lesko told several residents on Thursday that a set of solar panels installed at the downtown farmers market was never connected to the power grid. She characterized it as yet another failed project by Hieftje and city officials.
"They're solar panels to nowhere," she said. "In fact, the cost to light the farmers market since the $100,000 installation of solar panels has gone up."
Andrew Brix, the city's energy programs manager, said that's not true. He said the solar panels are connected to the grid and have helped reduced the electricity use at the market by at least 30 percent.
Brix said electric rates the city has no control over have increased, and if there is any increase in total electric costs, it is due to increased rates. He was out of town and didn't immediately have cost figures available.
Lesko repeatedly has claimed the city's municipal overhead costs have risen by 35 percent, or $34 million per year, from 2005 to 2009. Tom Crawford, the city's chief financial officer, said that's another false claim.
"No way," he said. "Our overhead costs don't even total $34 million. I don't understand where she's getting her numbers from. If she can find $34 million of overhead, she's using a different definition than most people use."
The city's year-end audits for 2005 and 2009 show Ann Arbor's general fund spending grew from $67.95 million to $83.88 million — a 23 percent increase. In that same time, total governmental spending grew from $147.6 million to $184.8 million — a 25 percent increase. Lesko couldn't produce numbers to show her rationale for stating there was a 35 percent increase in overhead costs.
Lesko's critics also have questioned her background in finance and management. Lesko proudly tells residents she's publisher and CEO of a national higher education publishing group headquartered in Ann Arbor. But she doesn't often acknowledge it's a small home-based business.
Lesko often speaks critically of the city's spending on capital projects. She said she considers herself a pragmatist and a fiscal conservative.
"I'm a saver, and if our city had saved 1 percent of the $1 billion we've generated in fees and property taxes over the last 40 months, we'd be sitting on a surplus," she told residents while going door-to-door on Thursday.
But city records show total revenue from taxes, licenses, permits, registrations, charges for services, fines and forfeits totaled $664 million from 2007 to 2010, far short of the figure Lesko cites.
Lesko later acknowledged her figures were wrong.
"I acknowledge it. People make mistakes," she said by phone on Friday.
Despite any factual inaccuracies, Lesko's message has resonated with the city's police and firefighters unions, both of which have endorsed her campaign. The firefighters union is paying for yard signs and T-shirts that read "Fire Fighters For Lesko." They also funded a large billboard that reads: "Do you care about our city? VoteLesko.org."
Craig Ferris, a member of the firefighters union, went door-to-door with Lesko on Thursday. It was his second time hitting the campaign trail with the mayor hopeful. He said union members are taking turns serving shifts.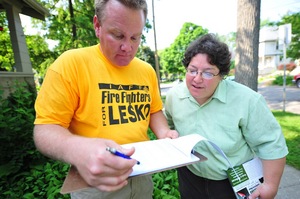 Ryan J. Stanton | AnnArbor.com
"We support Pat for a lot of reasons, but primarily because she understands that the fire department needs to be a capable fire department," Ferris said. "We feel that she has the best interests of the citizens in mind. And she doesn't want to have the fire department continuously dismantled and have fewer of us."
Ferris said the fire department too often has been the focus of budget cuts during Hieftje's reign as mayor since 2000. Lesko vows to increase fire services.
"It's prioritization of spending that will differentiate me from any other candidate who comes knocking on your door," she told residents on Thursday. "I'm going to have different priorities, one among which will be I want to reopen Station No. 2, which is in Burns Park, one of the densest areas of town."
Lesko's message of protecting public safety and tending to the city's basic services is also resonating with the voters she meets. Many of the residents she talked with on Thursday enthusiastically let her place campaign signs in their yards, which Lesko said brings her total count to more than 300 citywide.
Melissa Barnes and her partner Jon Cassino welcomed Lesko during a 10-minute chat on their porch. Like many Ann Arbor residents, they'd heard about Lesko's candidacy and were excited to meet her in person.
"Let's rock the boat. Let's tip some people out of that boat," Barnes told Lesko.
Lesko talks frequently of other like-minded candidates running for the Ann Arbor City Council this year, including Lou Glorie, Sumi Kailasapathy and Jack Eaton. The four, as a group, are hoping to oust the current council majority.
"I can tell you right now, she's our forerunner. By far she is our forerunner," Barnes said after Thursday's chance encounter. "It's not just a question of change. It's a question of accountability. The mayor and the City Council ... are not accountable to the citizens in the city. And they have not been for the longest time. They seem to be out for their own advantages."
Not everybody is convinced.
"Let me put it this way, I talked to her for five or 10 minutes, and I still don't have a very clear idea of what she stands for that is different from Mayor Hieftje," said Scott Spector, a U-M history professor who engaged in a cordial debate with Lesko on his porch on Thursday.
"While I may be dissatisfied with some of the directions that city government has taken over the past years, I think, like many other voters, I'm overall satisfied with the city administration," he said. "And I would need to have a stronger sense from an opponent that she was both qualified and had a clear opposing position."
Ryan J. Stanton covers government for AnnArbor.com. Reach him at ryanstanton@annarbor.com or 734-623-2529.