Posted on
Fri, Sep 30, 2011 : 5:59 a.m.
Patrick Fleming 'really loved that trumpet,' his brother says as U-M Marching Band prepares tribute
By Paula Gardner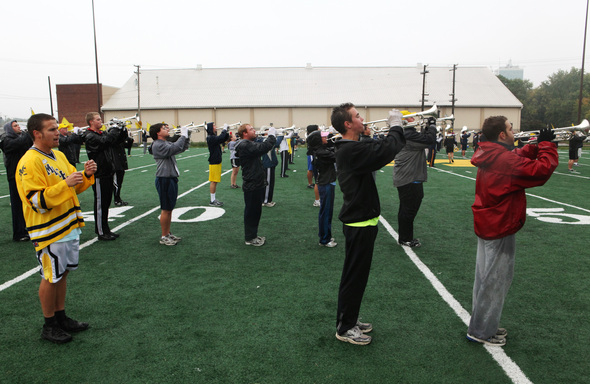 Jeff Sainlar I AnnArbor.com
The death of
Patrick Fleming
, a trumpeter with the
University of Michigan Marching Band
, continues to resonate across campus and the community.
Fleming died Monday morning at the age of 20 following a single-car crash near a construction zone on US-23 near Fenton.
Since then, the people closest to him — his family and his bandmates — have been preparing to honor his memory, first at the Michigan football game on Saturday and then at his funeral early next week.
On Wednesday night, marching band members from three other colleges showed up at U-M's practice to offer support to the grieving 370-member band.
"It was an unbelievable showing of class and dignity and compassion and kindness," said John Pasquale, associate band director. "It was truly remarkable that they were there."
One group drove 7.5 hours roundtrip from Ohio State University, Pasquale said. Another half-dozen drove from Michigan State University. And Eastern Michigan University's drum major joined the crowd on Elbel Field.
The group "showed up in suits and ties and they stood with us in the pouring rain, " Pasquale said.
At the end of practice shortly after 6 p.m., they took turns speaking to the U-M band.
"They even clapped along to 'The Victors," but they had smiles on their faces," Pasquale said. "It just goes to show you how in times of tragedy, people transcend a petty rivalry to come together as a family."
All of the Big Ten schools sent letters of support, Pasquale added, and many fans and alumni of the band are expressing their sadness through Facebook and other ways.
His death also reached across university rivalries to touch many people who knew him and recognized the loss, said Pasquale.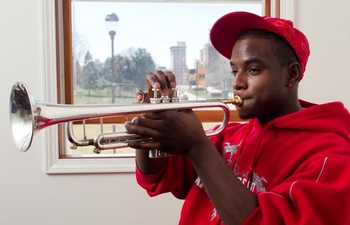 From Facebook
Fleming's family is taking comfort from the show of support, his older brother, Anthony Fleming, said.
"Everyone is touched," he said. "It's a trying thing for our family right now."
Fleming had been driving to classes at U-M Flint's campus when the accident happened, his brother said.
On Monday, he received a call from his mother, telling him Patrick had been badly injured.
"Shortly after, I got the call that he didn't make it," he said.
Patrick's family is gathering at their home in Ypsilanti, preparing for the funeral service on Tuesday. Many people are traveling from out of state, including his grandmother, Lucy Perry of Natchez, Miss.
"I love him very much," she said. "I thank God for letting him be with us for 20 years."
Patrick influenced many people, Anthony Fleming said.
"My brother was very optimistic," he said. "He always had a smile on his face. He was loved by many."
Amid all of the time-pressures in Patrick's life - which was filled with full-time work in Ann Arbor and commuting to Flint for classes - he still made time for daily practices and game days with the U-M band.
He'd started playing the trumpet as a child, Anthony said. Joining the marching band was a longtime goal.
"He really loved that trumpet," Anthony Fleming said. "He really did."
On Saturday, the band will take the field before and at halftime as the Wolverines battle Minnesota in football.
They'll leave a space in their formation where Patrick belongs, sending a message to the crowd at Michigan Stadium and to his family that he still belongs there. And that they, like his family, miss him.
Patrick Fleming is survived by his parents, Leroy and Linda, and two brothers, in addition to his extended family.
Public visitation will be Monday from 4 until 7 p.m. at C&H Community Home for Funerals, Lucille's Memorial Chapel, 411 S. Adams St., Ypsilanti. The funeral service will be held Tuesday, with the family hour at 10 a.m. followed by the service at 11 a.m. at New Hope Baptist Church, 218 Chapin, Ann Arbor, MI.