Posted on
Mon, Oct 24, 2011 : 12:34 p.m.
Pedestrian crossing improvements considered for Plymouth Road and Washtenaw Avenue
By Ryan J. Stanton
The Ann Arbor City Council is expected to vote tonight to direct staff to explore pedestrian crossing improvements on Washtenaw Avenue and Plymouth Road.
The resolution is being sponsored by Mayor John Hieftje, who is pushing for new pedestrian-activated crossing signals to help improve safety conditions on busy city streets.
Specifically, the resolution calls for exploring options along Washtenaw Avenue near Tappan Middle School and on Plymouth Road near the intersection of Beal Avenue.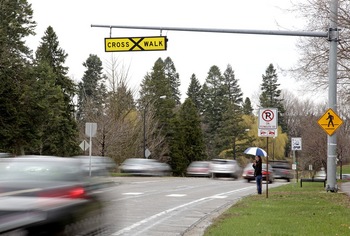 Courtesy of Aaron Kiley
The resolution authorizes the city's staff to make recommendations for improvements to crosswalks throughout the city "when advanced technologies are available and where appropriate." It gives staff a rough deadline of Dec. 12 for presenting its findings and recommendations for pedestrian crossing improvements on Plymouth near Beal.
"Pedestrians on Plymouth Road experience a challenging environment when crossing the street," the resolution states.
It also directs staff to begin the process of working with the Michigan Department of Transportation for pedestrian crossing improvements on Washtenaw near Tappan.
The proposal comes at a time when concerns are high about the city's new pedestrian safety ordinance, which is now being enforced.
Under the new law, the penalty for not stopping for pedestrians within or approaching a crosswalk in Ann Arbor is a $100 fine and two points on a driver's license.
Hieftje told AnnArbor.com earlier this month he was interested in working with the state to get more HAWK signals in place at certain crosswalks, including on Plymouth Road. HAWK is an acronym standing for High-intensity Activated crossWalK beacon.
A HAWK signal can be activated by pedestrians with the push of a button. A flashing yellow light alerts drivers that a pedestrian is preparing to cross, followed by a solid yellow light alerting drivers to prepare to stop. The signal then changes to red, allowing pedestrians to cross.
That was the solution for the intersection of Huron and Third streets just west of downtown. Prior to the installation of a HAWK signal there last year, otherwise able-bodied seniors living at Lurie Terrace were taxied across the street to work out at the YMCA.
The resolution on tonight's agenda mentions HAWK signals as well as what are called Rectangular Rapid Flashing Beacons or RRFBs as options for improving pedestrian safety.
According to the National Highway Traffic Safety Administration, there were 14,340 pedestrian fatalities and 193,000 pedestrian injuries resulting from pedestrian-vehicle crashes nationwide during the 2004-2006 period. RRFBs are intended to reduce those kinds of crashes at unsignalized intersections and mid-block crossings.
RRFBs are user-actuated LEDs that supplement warning signs. They use an irregular flash pattern similar to emergency flashers on police vehicles and can be activated by a push button or passively by a pedestrian detection system.
According to city officials, Washtenaw Avenue near Tappan Middle School is a four-lane street with high-demand for school children's street crossing. It's also considered an I-94 business loop, a state corridor where 20,000 automobiles per day travel.
Plymouth Road is another major corridor that sees more than 22,000 automobiles per day. The resolution on tonight's agenda notes the proximity of the University of Michigan North Campus, private residential apartments, the Islamic Center and small businesses in the area.
A spokesperson for the Ann Arbor Police Department said on Oct. 14 that a total of nine tickets had been written so far under the city's pedestrian safety ordinance. AnnArbor.com is awaiting a response from the police department to a Freedom of Information Act request seeking copies of police reports for recent rear-end accidents near crosswalks.
Ryan J. Stanton covers government and politics for AnnArbor.com. Reach him at ryanstanton@annarbor.com or 734-623-2529. You also can follow him on Twitter or subscribe to AnnArbor.com's e-mail newsletters.