Posted on
Mon, May 16, 2011 : 5:55 a.m.
Families with autistic children turn to Eastern Michigan University for vital services as U-M center prepares to close
By Juliana Keeping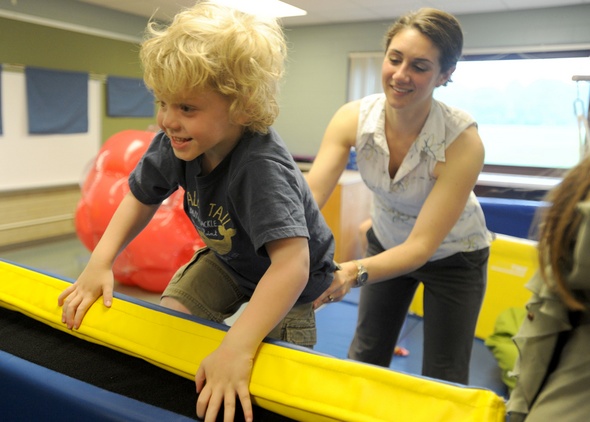 Angela J. Cesere | AnnArbor.com
The fall closure of a decade-old
University of Michigan
autism center will be a loss for the community, said
Pamela Lemerand
, the interim director of the
Autism Collaborative Center at Eastern Michigan University.
But its pending closure has already brought growth at the nonprofit EMU center, Lemerand, an occupational therapist and psychologist, said Friday.
Catherine Lord, the director of the U-M Autism and Communication Disorders Center, announced her departure last week in an interview with AnnArbor.com. She'll be moving to New York to the Institute for Brain Development, a new joint effort of Columbia University Medical Center, Weill Cornell Medical College and New York-Presbyterian Hospital that's scheduled to open at the end of 2012.
U-M doesn't not have plans to replace her and confirmed the autism center will close this fall.
Lord is world-renowned in the field of autism research: The Harvard-educated psychologist helped create diagnostic tools that have become the gold standard in the field, Lemerand said.
UMACC has been heavily referring patients to the EMU center for diagnostic assessments in the last month as offerings wind down, Lord and Lemerand said.
Lord called the EMU center, which opened in 2009, "a huge resource."
While there are a variety of options for autism diagnosis and treatment at private centers and area hospitals in Washtenaw County, services are often not covered by insurance and can run into the thousands of dollars.
As at UMACC, the EMU center strives to offer services at a reduced price.
Diagnostic assessments at EMU cost $850 — elsewhere, the cost can run up to $5,000.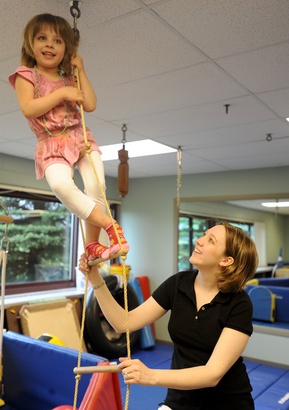 Angela J. Cesere | AnnArbor.com
The higher demand for services at the EMU center will lead to more offerings for the community, Lemerand said. In the last month, the center has hired a part-time speech therapist. The center also is looking to add a full-time psychologist to help meet the needs of new referrals and as part of the center's existing plans for expansion.
"I think the impact for us will be very positive. Critical mass can be really important to getting programs off the ground," Lemerand said.
For example, a class for autistic children with speech, occupational and music therapists needs enough children enrolled to be cost effective because of the low price charged to clients' families, Lemerand said.
Autism spectrum disorders affect 1 in every 110 children and 1 in every 70 boys, according to the U.S. Centers for Disease Control and Prevention. It's estimated that 1 million to 1.5 million American adults and children live with an autism spectrum disorder, a condition marked by social, communication and behavioral challenges.
The center, which has a budget of about $600,000, is not yet breaking even. It's funded via payments for services, and grants and partnerships with organizations like Easter Seals. Fundraising provides scholarships for autistic individuals and their families.
At UMACC, Lord was able to secure millions of dollars of funding and run research projects that offered free or reduced-cost services to families of autistic children.
Its staff of 60 people researches, evaluates and treats autism in individuals who range in age from infancy to adulthood. The center's offices are in the Victor Vaughan Building, 1111 E. Catherine St. in Ann Arbor, while staff involved in ongoing studies work elsewhere on campus. At any time, UMACC provides services for 300 to 400 people, Lord said.
Nine staff members at the center and five or six faculty members from EMU collaborate to help clients, drawing from the disciplines of occupational, speech/language, music and recreation therapies; social work; psychology; nursing; and dietetics, Lemerand said. Thirty EMU students from those programs provide supervised services. Overall, about 100 families use the center. Its youngest client is 18 months old and its oldest is 48.
Lemerand acknowledges that EMU is not a top-tier research institution like U-M; it can't secure individuals like Lord who can bring in giant federal grants for major projects at no cost to families.
But, the EMU center has the room, the staff and the desire to grow.
The EMU center takes less of a research-based, and more of a family-based approach to treating the condition at its center at 1055 Cornell Road in Ypsilanti in the Fletcher School building, Lemerand said.
"Autism affects the entire family — financially, emotionally and psychologically," Lemerand said.
Social groups for autistic teenagers and adults teach social and independent living skills. Interventions with younger children attempt to influence the brain in its growth and development to help build skills, Lemerand said.
The EMU center draws from different disciplines to find the right path to help autistic individuals overcome obstacles with communication, behavior and socialization. Support groups for parents and family members of autistic individuals are free.
Juliana Keeping covers general assignment and health and the environment for AnnArbor.com. Reach her at julianakeeping@annarbor.com or 734-623-2528. Follow Juliana Keeping on Twitter