Posted on
Thu, May 24, 2012 : 3:32 p.m.
Pickup truck catches on fire in Ann Arbor parking structure
By Kyle Feldscher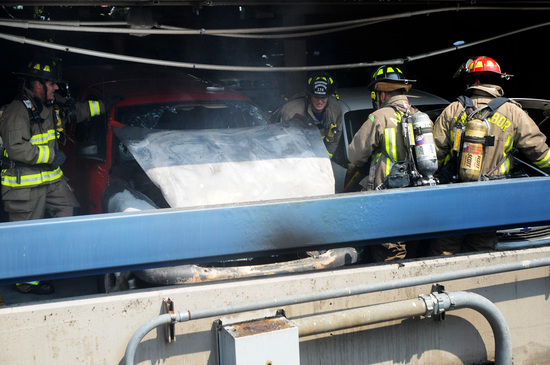 Melanie Maxwell | AnnArbor.com
A pickup truck caught on fire in the parking structure at Fourth Avenue and William Street in Ann Arbor Thursday afternoon.
Firefighters had the hood of the red pickup open about 3:30 p.m. Some smoke was coming from the vehicle but no flames. No one was inside the vehicle.
Firefighters had at least two trucks at the scene.
A witness reported an explosion in the structure and the vehicle on the drivers' side of the pickup truck suffered some burn damage. Black smoke was seen billowing from the structure but whatever flames resulted from the explosion were extinguished quickly.
Firefighters were still investigating the scene at 3:45 p.m. Thursday and were not immediately available for comment.
Video courtesy of Matt Taylor.
View Car fire in a larger map