Posted on
Fri, Mar 30, 2012 : 5:56 a.m.
State rejects plan for Border to Border Trail pedestrian bridge over Huron River
By Tom Perkins
Plans calling for a pedestrian bridge along the Border To Border Trail that would run underneath the Michigan Avenue bridge from Riverside Park to Water Street have been rejected by two state agencies due to safety concerns.
Instead, officials are considering having the trail cross Michigan Avenue just south of downtown Ypsilanti.
The City of Ypsilanti was awarded a $300,000 grant from the Michigan Department of Natural Resources Trust Fund and the Washtenaw County Parks and Recreation Commission offered $275,000 in matching funds to pay for the nearly $600,000 bridge.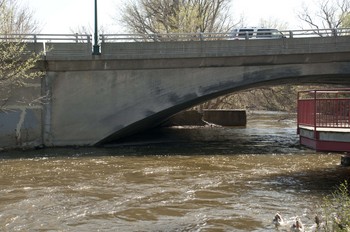 Tom Perkins | AnnArbor.com
Distribution of the grant money was delayed to all DNR trust fund projects by the state's legislative process and the city has yet to receive it. But that gives city and Parks and Recreation Commission officials time to develop new plans.
They are now considering building the pedestrian bridge across the Huron River just north of Michigan Avenue. It would lead from the west bank in Riverside Park to the east bank near the Fischer Honda dealership.
The Border to Border Trail would then continue across Michigan Avenue just east of downtown Ypsilanti and onto the Water Street property.
The Parks and Recreation Commission is proposing building a new recreation center to serve eastern Washtenaw County on the south side of Michigan Avenue along the Huron River.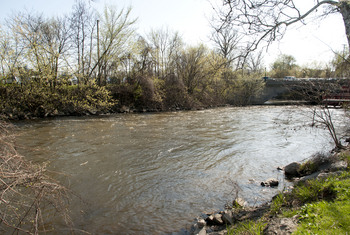 Tom Perkins | For AnnArbor.com
Linking Frog Island Park, Riverside Park, Water Street and Water Works Park is a high priority in the Ypsilanti Parks and Recreation Commission's master plan process. The trail would then continue southward into Ypsilanti Township, but it must cross the Huron River at some point if it is to be continuous.
Michigan Department of Transportation and Michigan Department of Natural Resources officials are concerned over scouring of the Michigan Avenue bridge's supports.
City Planner Teresa Gillotti said the MDOT report stated that a pedestrian bridge could impede water flow when water levels are high. The bridge is old, and state officials want to avoid any extra pressure or wear on the supports.
The crossing could include a pedestrian refuge island or HAWK lighting, which is a high-intensity crosswalk signal. Overhead yellow lights flash at all times and pedestrians can press a button that will turn the light turn red to stop traffic.
In response to a question about the safety of a heavily utilized crosswalk in the middle of a busy avenue near downtown Ypsilanti, Gillotti said that is the plan is being reviewed by MDOT officials who are the experts in make such determinations.
"We're going to work with (MDOT) to see if it's appropriate to put a crosswalk mid-block," she said.
Council Member Pete Murdock asked Gillotti during a discussion on the issue at council's March 20 meeting about placing the pedestrian bridge further upstream in Riverside Park. The trail would then run east to River Street.
Gillotti said that is a possibility, and the Border To Border Trail would run down River Street to the Water Street property. But that location presents challenges with placing an ADA-compliant ramp leading from the river to River Street.
There is no timeline in place for starting construction.