Posted on
Thu, Mar 15, 2012 : 3:05 p.m.
Playboy holds Big Ten tryouts in Ann Arbor: 'I'm young, I'm in shape ... so why not?'
By Kellie Woodhouse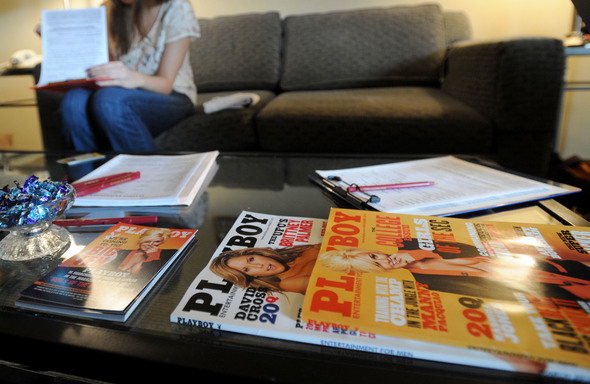 Angela J. Cesere | AnnArbor.com
On Thursday afternoon, Emily sat in a makeshift waiting room in an Ann Arbor hotel room, waiting for her turn to pose before the camera.
The 20-year-old art and film student is one of 12 University of Michigan students signed up to tryout for a spot in and upcoming "Girls of the Big Ten" pictorial for Playboy Magazine.
"I'm pretty nervous, I won't lie," said Emily, who declined to give her last name for this interview. Emily placed a clipboard with an information form on a coffee table covered with previous issues of Playboy and continued: "I've never done anything like this before, but I am really excited."
Playboy is in Ann Arbor until Saturday, looking for co-ed models for its upcoming college pictorial. Crews also are visiting 11 other Big Ten schools, including Ohio State University, Michigan State University and Penn State University.
As Emily waited, another woman —a 22-year-old nursing student who asked to be identified by her middle name, Brooke— emerged from the bedroom area of the hotel room after finishing her tryout session.
In an interview, Brooke said she felt liberated in front of the camera.
"I'm kind of feminist and I'm really proud of my body. ... It's an art," said Brooke, who wore platform heels, black shorts and a black top to the interview. "Women should be proud of their bodies. It's not something they we should have to cover up because people will judge."
Brooke is set to graduate in April and has already started applying for jobs as a critical care nurse. She told her brothers and friends about her Playboy aspirations and said they were supportive, but declined to comment on whether she would tell professors.
Clad in jeans, a black bra and a sheer white top, Emily took Brooke's place in the bedroom area. Later, she told a reporter the process was "a lot easier," "really fun" and "kind of natural."
"I've never modeled before but I've always wanted to," she said after trying out.
"It might sound cheesy, but being an art student I love figure drawing and painting the body. I think the figure is just a really beautiful object," Emily continued. "So it's kind of fun to feel like my body is a piece of art. I'm young, I'm in shape, I'm not going to be like this forever, so why not?"
Playboy was last in Ann Arbor in 2008 for another Big Ten shoot.
This year's U-M Playboy hopefuls have ranged from art students to law students. Some are from Michigan, others are from out of state. Some are shy about the process, others bolder, said Playboy producer Eden Orfanos.
"The great thing about the college girl issues is that we pick all different types of girls with all different types of bodies, ethnicities and shapes," Orfanos said Thursday, adding that authenticity is important, too: "We want the girl who actually goes here. A girl that you go to Starbucks and she'd be there ... the girl that's not a product."
Orfanos said the number of applicants for the college issue has declined over the years. When Playboy was last in Ann Arbor, roughly twice as many girls turned out for tryouts. Orfanos and her crew just came from Ohio State where six women tried out, compared with 50 students the last time Playboy visited. Crews are scheduled to visit Michigan State next week. More than 30 students have signed up to try out in East Lansing.
At each school Orfanos and her crew will select between two and six girls to feature.
This year's "Big Ten" special is scheduled to run in the October issue, which hits news stands Sept. 21.
Kellie Woodhouse covers higher education for AnnArbor.com. Reach her at kelliewoodhouse@annarbor.com or 734-623-4602 and follow her on twitter.