Posted on
Thu, Apr 15, 2010 : 2:45 p.m.
Poll shows Pam Byrnes with 13-point lead in Democratic primary race for Senate's 18th District
By Ryan J. Stanton
A recent poll conducted by Lake Research Partners shows state Rep. Pam Byrnes, D-Lyndon Township, with a 13-point lead over Rep. Rebekah Warren, D-Ann Arbor, in the race to replace Liz Brater in Michigan's 18th state Senate district.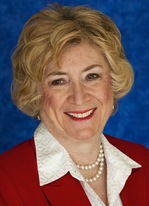 The poll shows Byrnes holds the lead over Warren at 30 percent to 17 percent, with 50 percent of voters undecided.
After voters hear positive profiles of both candidates and a series of messages contrasting the two, Byrnes expands her lead to 25 points — 45 percent to 20 percent, the poll shows.
The poll also shows Byrnes leads every age group, including an 18-point lead among voters over age 55. She has a 4 point lead within Ann Arbor and a 24 point lead outside the city.
Byrnes' campaign announced the results in a press release today, calling it an indication that Byrnes is in a strong position heading into the Aug. 3 primary election.
"These results show voters in the 18th district have seen Pam's ability to get results, deliver jobs and reform government," said Byrnes Campaign Manager Kent Sparks. "She has helped to secure tens of millions of dollars for Washtenaw County to repair our roads and bridges, creating much needed jobs. She's voted to cut the perk of free lifetime healthcare for current and future legislators, dock the pay for those legislators who don't show up for work and cut the salary of every legislator by 10 percent."
The poll was conducted last month and included interviews of a random sample of likely Democratic voters in the district. Byrnes' campaign notes only 26 percent of respondents were from the 52nd District, which Byrnes represents, while 74 percent were from Warren's (53rd District) and from Alma Wheeler Smith's (54th District).
The results also showed 45 percent of voters view Byrnes favorably, with just 7 percent viewing her unfavorably. Warren's favorability was 37 percent.
Warren said she's not worried about the poll.
"A poll is only a snapshot in time. The only real poll that matters is on Aug. 3," she said, noting that the poll already is dated.
"This is a Washington-based, out-of-state polling company," she added. "It's not an independent scientific poll. This is something somebody paid for to get a result."
The Byrnes campaign confirmed it did pay for the poll. Sparks pointed out it is a nationally respected polling company.
Warren said she has not used campaign money to pay for any polls. She said she's running a field-oriented campaign focused on knocking on doors, talking to voters and meeting in small groups to share her vision and mobilize grassroots support.
The poll findings are based on 500 telephone interviews with a random sample of likely August 2010 voters in Michigan's 18th state Senate district. Interviews were conducted from March 11-15. The margin of error is 4.4 percent.
Ryan J. Stanton covers government for AnnArbor.com. Reach him at ryanstanton@annarbor.com or 734-623-2529.