Posted on
Mon, Feb 13, 2012 : 1:31 p.m.
Polls show Santorum leading Romney in Michigan
By Cindy Heflin
Two polls suggest Mitt Romney, long considered the favorite to win Michigan's Republican presidential primary, could be in trouble.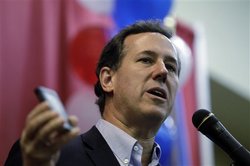 AP photo
One, released Monday by
American Research Group
, showed Romney trailing former U.S. Sen.
Rick Santorum
of Pennsylvania by a margin of 33 percent to 27 percent. The poll of 600 likely voters had a margin for error of plus or minus 4 percentage points
Also, the survey firm Public Policy Polling showed Santorum leading Romney 39 percent to 24 percent. But it noted that only 47 percent of likely Santorum voters said they were strongly committed to their candidate.
The poll also found little home state advantage for Romney. Only 26 percent of likely primary voters actually consider him to be a Michigander while 62 percent do not, it found.
Public Policy Polling said its survey of 404 likely GOP primary voters had a margin of error of plus or minus 4.9 percentage points.
Michigan's Republican presidential primary is Feb. 28.