Posted on
Wed, Apr 4, 2012 : 5:57 a.m.
Scio Township's Polo Fields subdivision special assessment district road work takes step forward
By Lisa Allmendinger
Two resolutions down, five more to go, before residents in Scio Township's Polo Fields subdivision see an about $1 million special assessment district for road repairs requested of the Washtenaw County Road Commission.
This resolution authorizes Road Commission staff to complete a plan and get a cost estimate for the work.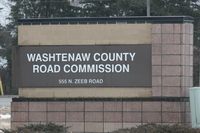 Lisa Allmendinger | AnnArbor.com
Residents in the subdivision sections of Saginaw Green North, Saginaw Greens East and two condominiums, The Fairway at the Polo Fields and The Preserves at the Polo Fields, approached the Road Commission for plans to get their roads fixed.
The subdivision was built during a 15-year period, so some of the roads need total rehabilitation, while others just need milling and resurfacing. The amount of a property owner's assessment will depend on the amount of road work needed for the road their home fronts.
Residents in Saginaw Greens North and East live in the older section of the subdivision and extensive work is planned on Polo Fields Drive, Glenmoore Drive, Birkdale Drive, Gullane Drive, Lytham Lane, Burswood Court, Kilkenny Court, St. Anne's Court, Cavendish Court, Carlisle Court and Dornoch Drive.
Residents in The Fairways and The Preserves live in a newer section and these roads need less extensive work. Included this road work plan are Polo Fields Driver, Fairway Park Court, Bogey Court, Chipshot Court, Birdie Lane, Dornoch Drive and Eltham Court
About 4.57 miles of roads within the subdivision will see road work once all seven required steps for the special assessment have been completed.
Lisa Allmendinger is a regional reporter for AnnArbor.com, who also covers the Washtenaw County Road Commission. She can be reached at lisaallmendinger@annarbor.com.