Posted on
Sat, Oct 1, 2011 : 5:30 p.m.
Porch couch enforcement 'going to get a lot more rigorous' after Saturday morning fire and rescue
By Jen Eyer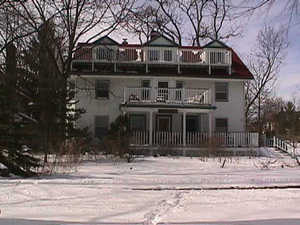 Photo from A2gov.org
Residents of the student
Black Elk Cooperative House
in Ann Arbor say more fire prevention education is needed after a
couch caught fire on their front porch
early Saturday morning.
If it hadn't been for the quick action from passersby who extinguished the fire with a garden hose, the fire would have spread to the house in minutes and potentially trapped residents inside, Ann Arbor fire officials said.
A city ordinance passed in 2010 bans upholstered furniture on porches, but Black Elk co-op president Kayla Gonyon said she thought this particular couch was legal because it was made of solid wood, with just a thin cushion on it.
"We knew about the couch ban, and when that went into effect we removed upholstered couches," said Gonyon, who is a graduate student at the University of Michigan. "But we thought this kind of couch was OK. No one has ever mentioned it."
Located at 902 Baldwin Ave. near Washtenaw Avenue, the Black Elk house has 22 residents and is a member of the Inter-cooperative Council. Gonyon said she plans to attend the next ICC meeting to talk about the need for more education and fire safety training.
"I think there are still other houses in our organization that have couches on the porch," Gonyon said.
Resident Rhiannon Haller added she'd like to see houses install smoke detectors on porches, since that is often where people go to smoke.
Ann Arbor Fire Lt. Phil Smith said the fire likely started from a smoldering cigarette butt. He said there was evidence of smoking, including several ashtrays on a table in front of the couch.
"We found no other evidence of accelerants on there, so the most probable cause is smoking," Smith said.
Smith said the house likely will be cited because the couch was an indoor couch, not a patio couch. Violations of the ordinance result in a fine up to $1,000. The charred couch has been removed.
The fire was first spotted by Kurt Kamper of Duluth, Minn., who was out for a jog. Kamper was in town for the Minnesota at Michigan football game, and was staying with friends in the Burns Park area.
Kamper said as he approached the house, he sensed the fire, and when he got in front of the house, he could see the couch engulfed in flames.
"I went to the side door and pounded but no one responded, so I went back around and could see that the front of the house was starting to get charred," Kamper said.
"I thought, I need to alert the fire department. I was worried that no one was responding."
Kamper said he saw a group of college-aged people walking on the other side of Washtenaw Avenue and yelled for help. The group approached, and someone called 911, Kamper said.
Dispatch received the call at 7:42 a.m., Smith said.
Kamper said although fire officials initially credited the "unknown jogger" with extinguishing the fire, he actually left once he knew fire trucks were on the way.
At some point between the time he left and the time the trucks arrived at 7:47 a.m., the fire had been extinguished with a garden hose attached to a spigot about 10 feet from the porch, Smith said.
"They did a great job putting it out. If it had gone unnoticed, next thing you know you might have people trapped because the tenants were unaware," Smith said. "Another few minutes and it would have grown to the point where a garden hose wouldn't have been able to put it out."
Gonyon said she's grateful to those who put out the fire. She said when she got outside, there was a big group of people in front of the house, but she didn't get any names.
"They saved our house and our lives, probably," Gonyon said. "Everyone in the house was fast asleep."
There was a little bit of smoke in the structure, but the fire was contained to the couch and a little bit of the porch, according to fire officials. No one was injured, and damages are estimated at less than $500.
ICC General Manager Erik Lipson expressed frustration that students are still putting flammable materials on their porches. He the ICC supported the couch ban and since then has worked continuously to educate residents about the risks.
"At our last board meeting, we urged our members to make sure there was no stuffed furniture on porches," Lipson said. "It's extremely disheartening that people don't take this more seriously."
Lipson said he is relieved the fire was relatively minor, but that ICC is taking the situation seriously and will begin monitoring houses more often. Smoke detectors are a possibility, Lipson said, but it's more important to get residents to comply with the law.
"Our enforcement is going to get a lot more rigorous," Lipson said. "We're going to go around to the houses on a regular basis. I've already talked to our maintenance director about it."
According to records with the City of Ann Arbor, the house was last inspected in 2009 — before the couch ban. Rental houses in Ann Arbor are inspected once every 30 months.
Jen Eyer is director of audience engagement for AnnArbor.com. Reach her at jeneyer@annarbor.com or (734) 623-2577.