Posted on
Sat, Mar 3, 2012 : 6:57 p.m.
Thousands still without power in Washtenaw County after windstorm
By Cindy Heflin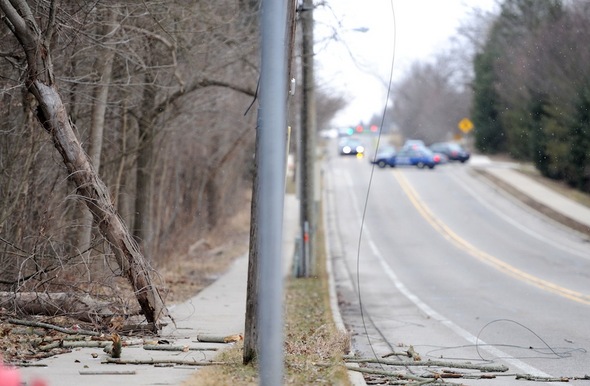 Angela Cesere | AnnArbor.com
About 2,500 DTE Energy customers remained without power in Washtenaw County Saturday evening following a windstorm Friday night and early Saturday morning.
That number is down from about 16,000 that were left powerless in the county from winds that gusted to more than 50 mph. About 12,000 customers were without power as of 9:30 p.m. Saturday in DTE's service area in southeast Michigan.
The bulk of those were in Oakland County, where 6,000 customers remained without power. About 2,000 were still in the dark in Wayne County.
Some customers could be without power until sometime Monday, said DTE spokesman John Austerberry, though crews were expecting to restore a substantial number by the end of the day Saturday and most by the end of the day Sunday.
"We knew this weather was coming, and we have a full complement of our DTE Energy crews as well as local contract crews working," he said. Crews were working around the clock, DTE said.
Extra crews were expected to arrive from neighboring utilities Saturday night. About 120,000 DTE customers lost power as a result of the windstorm, DTE said. More than 300 power lines were knocked down, mostly by fallen tree limbs, DTE said.
Farther west, Consumers Energy officials said about 76,000 customers throughout Lower Michigan were without power Saturday afternoon, down from about 112,000.
DTE warned customers to stay at least 20 feet away from any downed wire and anything it's in contact with and to keep children and pets away. Call DTE Energy at (800) 477-4747 to report any downed wired.
The winds were part of a late winter storm that carried heavy, wet snow as well as the high winds across Michigan's Lower Peninsula.
In Ann Arbor, the wind brought down power lines on Liberty Street near Dartmoor Road around 12:30 a.m., Ann Arbor police said. DTE crews had arrived by about 10 a.m. to deal with the wire, the Ann Arbor Fire Department said.
The Washtenaw County sheriff's department received several reports of trees and limbs down overnight, especially in Dexter and Webster townships, a dispatcher said. Wires were also reported down in the Ypsilanti area, a dispatcher with Huron Valley Ambulance said.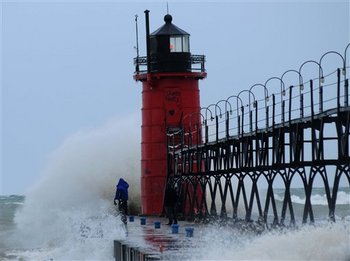 AP photo
Meteorologist Amos Dodson of the National Weather Service's office in Oakland County's White Lake Township said winds gusted up to 55 mph Friday night and Saturday morning in some parts of the state. Northern areas saw snowfall ranging from 10 inches to more than 15 inches, spurring authorities Friday evening to declare roads impassable in some places, such as Benzie County.
"We have blowing and drifting (snow) and it's super icy underneath from all this screwy weather we've been having," Sgt. Tony Harrington of the Michigan State Police post in Gaylord told the Petoskey News-Review Saturday.
The Traverse City Record-Eagle reported it called its newspaper carriers off the roads Saturday morning and said subscribers who did not receive a newspaper would get one Sunday. Several area ski resorts reported power outages, dog sled races in Kalkaska were canceled and Northwestern Michigan College was closed Saturday.
Dodson said the storm strengthened as it moved across the state. Although it was moving on to Canada Saturday, a gale warning remained on Lake Michigan until mid-afternoon. MLive.com reported that waves of eight to 12 feet were slamming Lake Michigan's shoreline, and in open water the waves could reach up to 24 feet.
The storm was part of the same system that brought a string of deadly tornadoes through numerous states in the Midwest and South.
The Associated Press contributed to this report. Contact Cindy Heflin at cindyheflin@annarbor.com or f734-623-2572 or follow her on Twitter.