Posted on
Fri, Jan 27, 2012 : 11:11 a.m.
Obama in Ann Arbor: President outlines plan to improve college affordability
By Kellie Woodhouse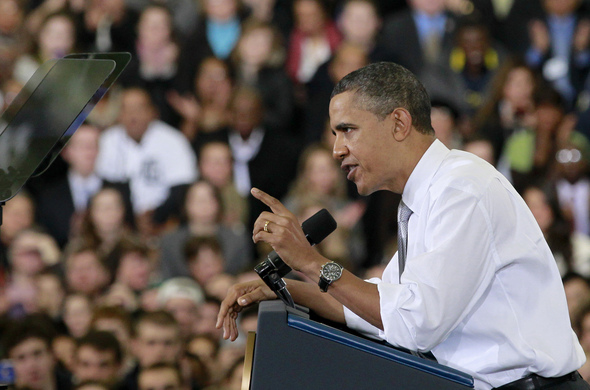 AP Photo
(
Related
:
Mega guide to the president's visit
)
President Barack Obama stressed the importance of affordable higher education to the nation's recovering economy as he outlined a series of overhauls to federal-based college aid before a crowd of thousands of University of Michigan students Friday.
"Student loan debt has now surpassed credit card debt for the first time ever. Think about that: It's inexcusable," Obama said. "An economy built to last demands we keep doing everything we can to bring down the cost of college."
During a speech before roughly 4,000 at Al Glick Field House in Ann Arbor, Obama implored the 40 states that reduced their public university funding last year to stop the trend of disinvesting in higher education. He told the crowd at U-M that tuition had doubled since "most of you were born."
About two-thirds of college students go to public universities and in 2010 the average college student graduated with $24,000 in debt.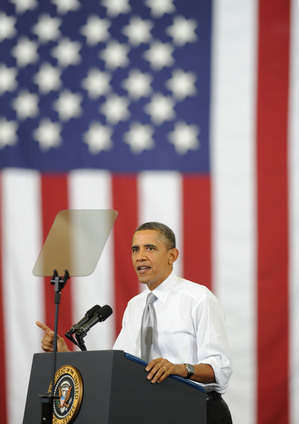 Angela J. Cesere | AnnArbor.com
The president noted the importance of tuition assistance to his own family. His grandfather, a World War II vet, attended college on the G.I. Bill.
"Michelle and I can still remember how long it took us to pay back our student loans," he said.
"Your president and your first lady were in your shoes not that long ago. We didn't come from wealthy families. The only reason that we were able to achieve what we were able to achieve was because we got a great education."
Overhauling the loan system, however, is not enough, Obama said, asserting that federal and state governments can't continue to subsidize skyrocketing tuition.
"You can't assume that you'll just jack up tuition every single year," Obama said, speaking to universities. "We should push colleges to do better, we should hold them accountable if they don't."
As he asserted the need to stem rising college costs, Obama also praised the Detroit auto industry for an ongoing economic recovery. He encouraged Detroit auto companies to invest more resources in developing fuel efficient cars.
"Jobs are coming back, 160,000 jobs," Obama said.
The president discussed the need to rebuild the nation's manufacturing industry and asserted Michigan's importance the country's continued economic recovery.
"Michigan is all about making stuff, if there's anybody in America that can teach us how to bring back manufacturing it is the great state of Michigan," he continued
The U.S. Department of Education announced a number of new college affordability initiatives today and Obama outlined several of them in his speech.
They include:
Award $10 billion in campus based aid per year. Such aid includes Supplemental Educational Opportunity Grants, Perkins Loans, and work study. Calling the formula for such awards "antiquated," Obama wants to develop a new formula that prioritizes schools with stable and affordable tuition rates, instead of those that have been in the aid programs longest. The new formula would also incentivize "good value education," meaning high graduation rates and job placements, and the matriculation of low-income students. Obama also wants to double the number of subsidized work study jobs in the next five years.
Growing the amount of federal Stafford loans from $1 billion to $8 billion. The president also wants interest rates on Stafford loans to remain stable. The 3.4 percent rate is set to increase to 6.8 percent this summer, but the president plans to ask Congress to delay the increase for at least a year.
A $1 billion grant competition for states that would incentivize investing tax dollars in public universities. It would work similar to the K-12 Race for the Top program, which prompted states to approve new laws allowing for more charter schools.
A $55 million "First in the World" competition which would award individual colleges and education non-profits with money to boost productivity.
Requiring every accredited college to post a "scorecard" that outlines the true cost for attending, including tuition, room and board costs and amenity fees.
To begin collecting and archiving graduation and graduate employment rates from colleges.
Kellie Woodhouse covers higher education for AnnArbor.com. Reach her at kelliewoodhouse@annarbor.com or 734-623-4602 and follow her on twitter.