Posted on
Fri, Jan 27, 2012 : 11:10 a.m.
President Obama: Incentives needed to force low tuition, higher grad rates
By Nathan Bomey
(Related: Comprehensive guide to AnnArbor.com's coverage of President Barack Obama's visit to Ann Arbor)
President Barack Obama today said in Ann Arbor that he would offer a bucket of incentives devised to nudge states to restructure their college funding systems and force universities to keep tuition low.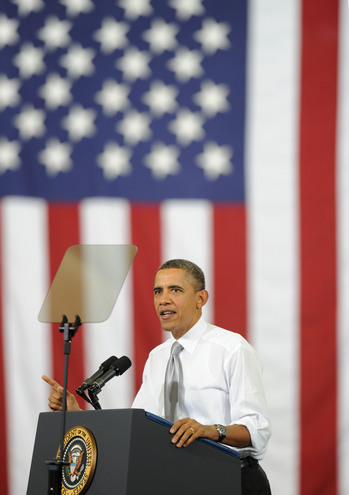 It reflects a general shift toward governments using dollars to incentivize change among cities, schools and other entities. "We still have by far the best network of colleges and universities in the world," Obama said at a speech at the
University of Michigan
in Ann Arbor. "But the challenge is it's getting tougher and tougher" to afford to attend college.
"We've got to do something to help families to be able to afford and students to be able to afford a higher education."
The president pitched a new $1 billion extension of his Race to the Top program, which originally offered states dollars to adopt new laws enacting various reforms such as allowing more charter schools.
Now, the initiative is aimed at states — dangling dollars in exchange for higher education reforms.
Obama's initiatives — including a threat to strip federal aid funding from public universities that don't meet the administration's demands — resemble incentives Gov. Rick Snyder implemented to force municipalities and schools to change employee benefit programs and adopt transparency initiatives.
Snyder, in fact, has hinted that next month he will propose additional funding for Michigan public universities that meet certain objectives — such as, perhaps, improved graduation rates.
Today's proposal from Obama calls for similar incentives on a federal level. The administration's $1 billion Race to the Top: College Affordability and Completion challenge would offer dollars to states that change their financing models and place an emphasis on graduation rates.
But there's a catch: the president also wants states to "maintain adequate levels of funding for higher education," according to a Department of Education news release.
"We can't just keep subsidizing skyrocketing tuition," Obama told a cheering crowd of about 4,000 attendees, mostly students. "No matter how much we subsidize it, sooner or later we're going to run out of money. And that means that others have to do their part. Colleges and universities need to do their part to keep costs down, as well."
To be sure, many states are sure to be reluctant to pursue a temporary influx in dollars in exchange for a permanent commitment of higher funding.
But the president is also proposing new formulas for campus-based aid programs — including Supplemental Educational Opportunity Grants (SEOG), Perkins Loans and Work Study programs — to distribute aid to schools that keep tuition low and meet graduation targets.
U.S. Secretary of Education Arne Duncan told reporters this morning at the event that the incentives are "carrots" to entice states to adopt reforms.
"We want to be very thoughtful" about the process, he said. "For too many middle class folks, they're starting to think college is not for them."
The president's address Friday morning comes three days after he said in the State of the Union address that college affordability needs to be a national priority.
Obama wants Congress to prevent subsidized Stafford student loan interest rates from rising from 3.4 percent to 6.8 percent this summer, to double the number of work-study jobs available to college students and to make permanent the American Opportunity Tax Credit to help offset out-of-pocket tuition spending.
Obama, reflecting on his own experience as a graduate of Columbia University and Harvard Law School, said student loans can be backbreaking.
"Michelle and I still remember how long it took us to pay back our student loans I just want all of you to understand - your president and your First Lady were in your shoes not that long ago," he said. "We didn't come from wealthy families. The only reason that we were able to achieve what we were able to achieve was because we got a great education. We could not have done that unless we lived in a country that made a commitment to opening up opportunity to all people."
Contact AnnArbor.com's Nathan Bomey at (734) 623-2587 or nathanbomey@annarbor.com. You can also follow him on Twitter or subscribe to AnnArbor.com's newsletters.