Posted on
Fri, Jan 27, 2012 : 5:59 a.m.
Obama in Ann Arbor: President speaks today on college affordability at University of Michigan
By AnnArbor.com Staff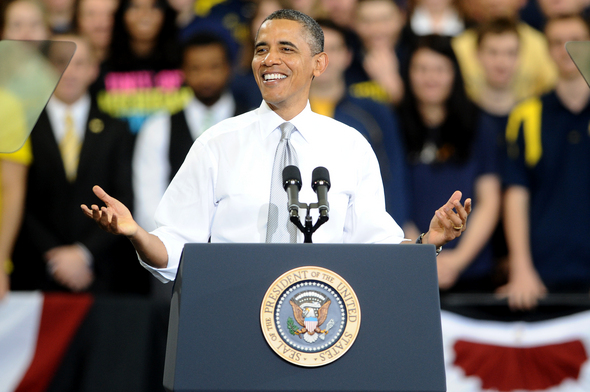 (Related Coverage: Mega guide to the president's visit)
A reporting team from AnnArbor.com has been at the University of Michigan in Ann Arbor all morning, reporting live updates from President Barack Obama's appearance.
11:15 a.m.: Traffic is congested, but police are removing barricades from the South State area. Roads should be opened soon, probably by noon, according to officers on the scene.
10:59 a.m.: Motorcade starts rolling out of Ann Arbor. Police say it's unclear when roads will reopen.
10:52 a.m.: An email from Eastern Michigan University arrived a short time ago. Here's reaction from EMU:
Eastern Michigan University President Susan Martin was among the special guests invited to President Barack Obama's address on higher education at the University of Michigan in Ann Arbor this morning. Following the address, President Martin issued this statement:
"President Obama's emphasis on keeping higher education affordable is absolutely the right message at the right time, and mirrors the efforts of Eastern Michigan University. Over the last three years we have been a national leader in tuition restraint, with an overall increase of only 2.5 percent -- including 2010 when we held tuition, room and board to a "0,0,0" increase. Students are paying only $20 a credit hour more than three years ago -- despite the significant reduction in state funding. At the same time, we have increased financial aid support by 68 percent in the last five years. Supporting Michigan students and helping them earn a degree is key to our state's economy. We are pleased to see this national focus on a critical issue for our nation's future."
10:50 a.m.: We just published a gallery of photos of the event from AnnArbor.com readers. Check them out.
10:30 a.m. Keeping that promised focus on college costs. Obama says the government cannot just keep subsidizing student aid. He says every college and university must help make sure every American can afford a world-class higher education.
10:14 a.m. Obama didn't waste time — getting right to talking about the auto industry and the federal government placing its bets on the American auto industry. "Michigan is all about making stuff. If there is anybody in America who can teach us about how to bring back manufacturing. It is the great state of Michigan."
Hundreds of students in the crowd are cheering and holding up cell phone cameras.
10:05 a.m. Obama is discussing Michigan's work force, American ingenuity and the State of the Union speech. Outside, Ben Tabatowski-Bush and his two children remain ticketless but they don't care — they said they are happy to be near the speech. "I think this all will be very memorable," he said. "Even if we didn't get in."
Sandra Tighe of Lodi Township felt the same way. "It's an opportunity of a lifetime."
10:01 a.m. "Where's Denard?" First of many mentions of the U-M quarterback. Crowd appreciates it too.
9:59 a.m. And, with a roar of the crowd, the speech is on. Want to watch? Here is a link to the live stream.
9:50 a.m. Obama is on the stage. While everyone is killing a few minutes before his speech, the VIPS are making the most of it: they are getting photos with Denard Robinson.
9:46 a.m. Running late? Admission is officially closed. The last person was let into the field house at 9:30 a.m., according to volunteers.
9:41 a.m. He's here. Background music: U2's City of Blinding Lights. Cheers. A lot of them.
9:40 a.m. Obama is expected to arrive any second.
9:36 a.m. There's a special dignitary section where the VIPs are waiting for Obama. They included David Brandon, U-M's athletic director. 9:32 a.m. So much for the tight time table: The White House is reporting that the speech will now begin at 9:45 a.m.
The crowd doesn't seem to mind: a huge cheer just went up for Denard Robinson.
9:24 a.m. The hour is drawing near, though there is no sign of the motorcade near U-M yet. TV crews from Detroit and Toledo are on site, and there are multiple broadcast opportunities for people who want to watch Obama's speech. Here is our story detailing them.
9:20 a.m. Michigan Gov. Rick Snyder is a confirmed no-show for the speech. His day's agenda includes a speech at the Michigan Press Association meeting in Grand Rapids, a stop at Gentex in Zeeland, and remarks at the Henry Ford Museum's "Driving America" exhibit opening ceremony.
9:12 a.m. They're onto the Pledge of Allegiance.
9:09 a.m. The crowd is singing the National Anthem.
9:05 a.m. The line has been depleted.
9 a.m.: Several local Democrats are in the house.
Ann Arbor Mayor John Hieftje: "It's billed as an education speech. We'll see how that comes out. I'm hoping he's going to say some stirring things and announce some programs that are going to help people get an education they can afford."
State Sen. Rebekah Warren on today: "I think it's exciting. For us, the president has always remembered Michigan. He never turned his back on us."
Asked how political he thought Obama might get today, state Rep. Jeff Irwin jokingly replied: "6 out of 10." He acknowledged the president is here, at least in part, kicking off his 2012 campaign.
8:51 a.m.: The line had been moving at a slow but steady pace, and now it's tapering off. There are very few people heading to the practice field. Here's a video that we posted about a half hour ago that shows the line.
8:32 a.m.: Saline High School senior Aviva Shwayder, wrapped from head to toe in a thick orange and yellow blanket, is seeing Obama for the second time in one year. Last summer she was selected by Girls' Nation to meet Obama at the White House." I never thought I'd be able to see him again, much less in my hometown," she said. "To be able to see a sitting president is one of the truest acts of citizenry I think."
She waited in line for seven hours for her ticket and said she would have waited longer if she had to. "I admire him as a person with strong morals and ethics."
Shwayder came out to see the president even though she has a calculus test today. Fortunately, it's at the end of the school day, so she's planning to be back in time.
8:19 a.m.: University of Michigan grad Eugene Kang, a special assistant to President Obama, was spotted walking around the media area pumping his fist to the sound of the Michigan fight song. Kang is a graduate of Ann Arbor's Greenhills School.
8:15 a.m.: When you see photos and video of the speech, and the camera pans the crowd, you won't see people dressed in identical shirts that could be considered propaganda.
That's not allowed - and the reason several U-M students were collecting armfuls of bright blue shirts from the Clean Coal Group. They'd been distributed earlier, but no one was allowed inside with them.
8:12 a.m.: U.S. Secretary of Education Arne Duncan told reporters this morning at the event that the administration would use incentives — or "carrots," as he called them — to entice states to enact legislation to keep college tuition low. Â  "We want to be very thoughtful" about the process, he said, drawing comparisons to the Race to the Top competition that prompted states to approve new laws allowing for more charter schools. "For too many middle class folks, they're starting to think college is not for them." Â  Duncan said its primary goals are to boost graduation rates, keep tuition low and increase the number of students getting jobs after graduation. Â  One of the reasons the administration chose U-M for its event was because "we're trying to improve completion rates" and U-M has high graduation rates.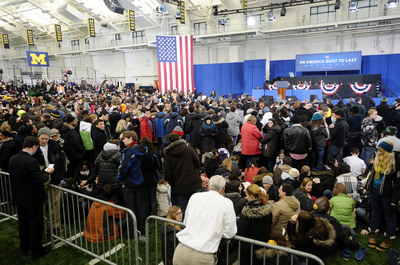 Melanie Maxwell | AnnArbor.com
8:04 a.m.:
Two anti-abortion protesters are at the practice field entrance next to the fieldhouse.
Judy Paga of Lapeer County and her friend, Ellen Myers of Romeo, are holding up signs with fetuses that say, "Obamanation." They're expecting more pro-life protesters to join them over the next two hours.
7:55 a.m.: People are still arriving to stand in line, and U-M has several people on site to direct them to the end of it. VIPs are arriving, too, but they get to bypass the group, which still is circling the field adjacent to the fieldhouse. Among them so far: Sen. Carl Levin and state Rep. David Rutledge.
Some people tried to get "The Wave" started, but it petered out pretty quickly.
7:40 a.m.: U.S. Education Secretary Arne Duncan is in the fieldhouse. He's gearing up for a TV interview with the stage and crowd as a backdrop. He visited U-M in September, calling U-M's School of Education a "model."
7:34 a.m.: Obama will be rolling out his plan for college funding, which will affect schools that don't keep costs in check. AnnArbor.com just posted a story from the Associated Press about it.
7:30 a.m.: Meaghan Thompson and Hailey Burns were walking on State Street, trying to figure out the best route to the fieldhouse. Police kept them on the east side of the street.
They didn't have a sense of how long the line was or how long they'd have to wait - but also said the weather wasn't going to keep them away.
"There's no way we'd stay home," Burns said.
7:17 a.m. : The U.S. Secret Service is doing security checks. It's going smoothly. People need to open coats and put anything else on the table for security to check. People are giving up their bottles of water and leftover food from their time in line since they can't take them in.
Nobody seems to have brought a purse, per instructions.
7:10 a.m.: They're letting people in, one at a time. There are six security stations.
And yes, the crowd cheered. Someone yelled "Number one!" in honor of Teman Evans (See below - and Thursday's coverage).
7:08 a.m.: The band had been let into the fieldhouse, but the media and the public remain in line. People are starting to wonder when they'll get inside.
One White House security staff member said they want to only let a few in at a time due to security checks.
7:05 a.m.: Police stationed at Stimson are redirecting traffic due to the closed South State. So far, there aren't many traffic backups and vehicles are just heading toward South Industrial. Roads around Ann Arbor have a fairly heavy volume of traffic incidents due to the weather. Southbound US-23 between US-12 and Bemis is closed due to a crash.
7 a.m.: Doors haven't opened yet.
6:50 a.m.: U-M volunteers are managing the crowd, but there's not much to manage, people on site say. The line is snaking around the field to the south of the fieldhouse and people are just waiting for the doors to open.
6:40 a.m.: Who's first in line to see Obama? Teman Evans. And yes, he's the person who was first in line at the Michigan Union on Thursday to get tickets.
The lecturer at U-M's Taubman School taught from 1-5:30 Thursday, then headed to the Al Glick Fieldhouse by 6. He brought a down jacket, a cap and a little bag of oranges.
About 20 people joined him by midnight.
"We played games, we had all kinds of fun," he said. "It was a festive crowd."
His reason for his spot in the lines: He's an Obama supporter. "I want to get close so I can hear every word."
6:30 a.m.: State Street is closed, and there's heavy security near the fieldhouse at 1300 S. State. That's causing some rerouting of the pedestrians trying to reach the line: Police are directing people heading southbound down Hoover to Green.
The crowd estimate: 1,000.
6:15 a.m.: Ann Arbor's streets near the University of Michigan sports facilities looked more like a football Saturday than 6 a.m. on a weekday this morning as crowds of people made their way to the line to see President Barack Obama.
The temperature hovered near freezing and the sidewalks were covered with a dusting of snow, prompting the people who waited in line to seek shelter from rain gear and tarps and clutch coffee cups.
But the mood still sparked with excitement, people said.One of them was Molly Berlik, a student at U-M from Midland, who woke up at 5 a.m. to get to the Al Glick Fieldhouse before the doors opened at 7 a.m.
She's a member of the U-M Marching Band and among the 30 members of the basketball band selected to play for the president.
The playlist: "The Victors" and other U-M standards, thanks to copyright laws coming into play due to the plan to televise the speech.
Angela Cesere | AnnArbor.com
University of Michigan
officials are encouraging people with tickets to show up by 7 a.m. If you get to the field house later than 9 a.m., you wont be let in, even if you have a ticket.
Word of Obama's speech and its focus on affordability leaked Monday. The speech is the president's second in Ann Arbor while in office. He spoke at the school's commencement on May 1, 2010.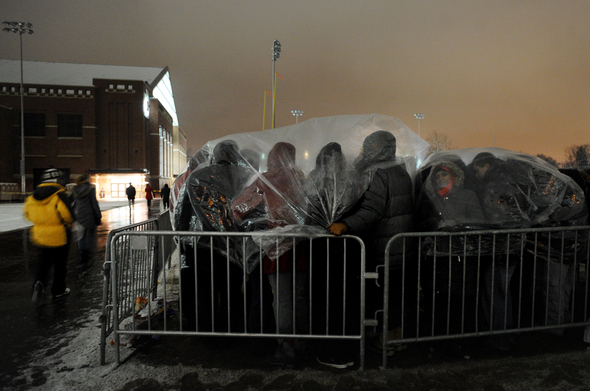 Melanie Maxwell | AnnArbor.com
Find details on the speech here.
Follow @Annarborcom, @kelliewoodhouse and #ObamaAA on Twitter for live updates. Send your event photos to news@annarbor.com.
This story is reported by Paula Gardner, Janet Miller, Danny Shaw, Nathan Bomey, Angela Cesere and Melanie Maxwell.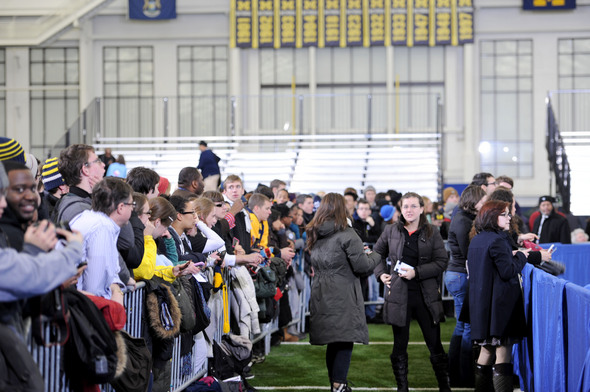 Angela Cesere | AnnArbor.com