Posted on
Mon, Feb 27, 2012 : 1 p.m.
President Obama unable to attend Logan Elementary's Reading Month celebration
By Danielle Arndt
President Barack Obama regrettably turned down an invitation to attend a Logan Elementary School National Reading Month celebration, the Ann Arbor Journal reported.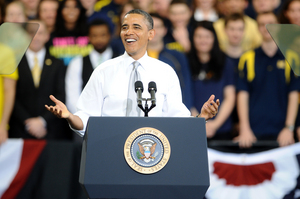 AnnArbor.com file photo
According to
the Journal, Logan sent an invite to Obama to participate as a guest reader in the school's heritage assembly on Friday, March 30. The assembly will mark the close of Logan's month-long dedication to revitalizing children's interests in the printed word.
Schools across the United States will be hosting similar celebrations throughout March for National Reading Month.
A White House staff member, Alex, called the elementary school to send the president's regrets, according to the Journal. She said his schedule "does not allow him to accommodate your invitation."
"The president values each invitation he receives and we thank you for your interest in including the president in your plans," Alex said.
To listen to the full message that White House staff left with Logan officials, read the Ann Arbor Journal's report.
Staff reporter Danielle Arndt covers K-12 education for AnnArbor.com. Follow her on Twitter @DanielleArndt or email her at daniellearndt@annarbor.com.