Posted on
Mon, Feb 14, 2011 : 5:58 a.m.
Developer still trying for permit for private wastewater facility in Superior Township to build 1,950-unit manufactured home park
By Tom Perkins
A Livonia-based developer hoping to build a 1,950-unit manufactured home park in Superior Township is renewing efforts to obtain a key permit amid a debate with the township over whether the development fits zoning rules.
Riverine Development, a division of Rock Construction, needs a wastewater discharge permit from the Michigan Department of Environmental Quality to build a private wastewater treatment plant. A preliminary hearing on the matter has been scheduled for June 15 with a state administrative law judge.
Township officials say they and township residents have opposed the development since it was first proposed in the summer of 2004, and Rock's continued push for the project is costing taxpayers more money.
Even if the wastewater discharge permit is denied, Beth Gotthelf, an environmental attorney for Rock, said the company is willing to connect to public sewer service. Township officials say there has been no discussion over connecting the development to the public sewer. But they say that under either scenario, the proposal doesn't fit with the township's master plan, growth management plan, and zoning rules.
Township officials have argued approval of the permit could influence the rezoning process, and they also contend that zoning issues should be considered in weighing a wastewater discharge permit.
The development is proposed on 522 acres spanning from Geddes Road north to Cherry Hill Road. The five parcels on which the park would sit are zoned agricultural and light residential, allowing for roughly 165 single-family homes, or no more than one home for every two to five acres. The proposal calls for four homes per acre.
Additionally, per the township's master plan, water and sewer lines aren't to extend north of Geddes Road, with the exception of several small areas that connect to the Ann Arbor treatment plant a mile to the west.
Following Rock's original 2005 application for a wastewater discharge permit, township officials requested a public hearing at which they and residents voiced opposition to the project. Among their concerns, township Clerk David Phillips said, were the density of the project, its impact on water quality in the Huron River and the potential liability of having a sewage treatment plant in the township.
Superior Township voters approved a three-year, .25-mill tax in May 2006 that generated $165,000 annually to help pay for legal costs to protect the township's growth management plan. Phillips said that vote demonstrates their opposition to the Rock project.
"What makes these types of development issues interesting is they often come across as the desire of voters versus the desires of developers, aka Big Business," Phillips said.
In December 2005, the state environmental agency denied Rock the discharge permit. In January 2006, Rock filed an appeal. Late in 2006, an abeyance was approved to provide Rock with time to pursue a rezoning effort with the township. The developer was also instructed to provide township officials with an update every 90 days.
The township has received status updates from Rock's attorneys every 90 days stating the company was pursuing zoning changes, though they never started the process, according to Phillips.
The parties met with the administrative judge in late January. At that meeting, Phillips said, Rock attorneys told the judge the poor economy prevented them from pursuing the project. The judge ordered a hearing for June 15.
Phillips said several outcomes are possible: The judge could dismiss the appeal before or after the hearing, at which point Rock could modify its application and re-file, or take the matter to circuit court. If the judge grants the appeal, the township would likely appeal that decision, Phillips said.
The head of the state environmental agency has veto power over any ruling by the administrative judge.
No matter the outcome, Phillips and other township officials fear spending more money to fight an unpopular development. Phillips estimates the township has spent more than $80,000 fighting it so far, and officials are considering putting a legal defense millage back in front of voters to once again fight the proposal.
"My biggest complaint is we're burning up our taxpayers' money," he said. "This process doesn't make much sense."
Phillips said the key to Rock's case is a DEQ rule called Rule 98. It states the developer must demonstrate that decreasing water quality through discharge from the wastewater treatment plant would provide "important social and economic" benefits.
Phillips said township officials and representatives from the Huron River Watershed Council, who are also fighting the discharge permit, are both concerned about pollution levels. The plant would process roughly 390,000 gallons of wastewater daily, and raise the amount of phosphorus in the river. Phosphorus is the nutrient responsible for stenches and algal blooms in rivers and lakes in the warmer months.
Officials say the plant likely wouldn't release enough phosphorus into the river to exceed the total maximum daily load allowed by law, but they are still concerned over the increased levels.
Laura Rubin, executive director for the HRWC, said the federal government has ordered the reduction of phosphorus in that part of the watershed.
"This would be a step backwards," she said. "All these communities have been investing lots of money on on-the-ground projects or improvements to reduce the levels ... and this goes against all those efforts."
Phillips said the township is also concerned about who would operate and be responsible for the wastewater treatment plant. If it's built, a developer would operate it, he said, but if it was built and the development somehow failed or stalled, officials are unsure who would be responsible.
A representative from the DEQ said it's a gray area in the law. Because Rock is building a manufactured home park, it is regulated by the Michigan Department of Energy, Labor and Economic Growth. Since that agency doesn't require a performance bond when it licenses manufactured home park operators, owners can walk away from a park without any immediate consequences. That would likely force the township to sue.
A DEQ official said there are several recent examples in Michigan of developers walking away from parks where a wastewater treatment plant was built but the development failed. Officials said the DEQ is still figuring out how to deal with those situations.
Gotthelf said Rock isn't yet thinking about zoning issues — only the wastewater permit — and declined to comment on zoning issues.
"Our focus is on wastewater discharge, which addresses water quality," she said. "As to zoning, we haven't put in an application or request for a variance."
But Phillips said debate exists over whether zoning issues are a part of the DEQ's wastewater discharge licensing process. He said Rule 98 brings into question the economic impact of lowering water quality. That relates to zoning issues, Philips said, and he provided a 2006 opinion from a DEQ director stating that zoning issues are part of the process in considering wastewater discharge permits.
But Phillips added the attorney general has also ruled zoning issues don't apply to the licensing process, so the question is up for debate. He also argued developers influence the rezoning process, so it is inextricable from the wastewater discharge permit question.
Phillips said the township still has plenty of room for additional development south of Geddes Road, where sewer lines are already in place. He said the township has approved more than 2000 homes for development in that area over the last five years that were never built because of the economy. The township's managed growth plan, which includes keeping dense development south of Geddes Road, has benefited it economically during the recession, officials said.
Phillips questioned why a state agency would consider approving such a permit that would open the door to sprawl when the township has a "rational zoning plan" that prevents sprawl and is encouraged by other state agencies.
"These parcels are smack dab in the low density zone, and we spent a lot of time and money zoning our township and on our master plan and planning our community using good, sound principles," Phillips said. "We don't have leap frog sprawl that leads to infrastructure and road problems because of it. After all we went through in developing our master plan, it contradicts a lot of sections of it, so of course we are going to oppose it."
Superior Township resident Sandi Lopez echoed officials' concerns and said she doesn't know of anyone in the township who supports the proposal.
Lopez, who does environmental work, said she's worried the wastewater treatment plant could be neglected and fail to work properly, which she says has happened with other plants.
She also questioned the need to put a manufactured home park at that location when low income housing is available in parts of the township that are zoned to handle dense development.
"That land is agricultural land, and I would like to keep it that way," she said. "We spent the time and money to put together a plan of what we want and didn't want, and we didn't want sewers north of Geddes. It would encourage development, and we would lose our farmland.
"A group of people can't just pull some money together and come in and think they can get our township to change our plans. We tried very hard to be fair with it. It's not that we're opposed to everything, but what they wanted to do doesn't fit with what the area is intended to be."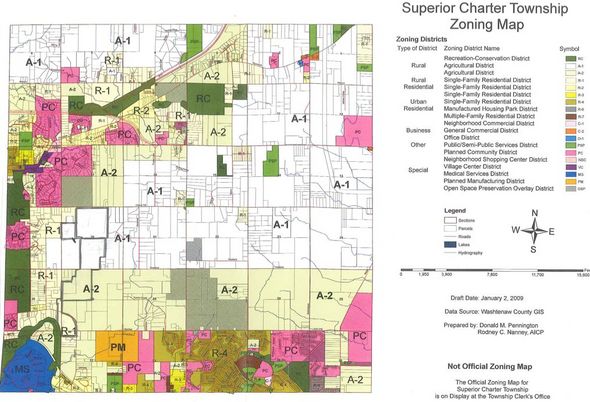 Tom Perkins is a freelance reporter at AnnArbor.com. Reach the news desk at 734-623-2530 or news@annarbor.com.