Posted on
Sat, Mar 17, 2012 : 4:57 p.m.
Protesters don't want Walmart to carry genetically engineered corn
By Lisa Carolin
Seven people carrying signs marched in solidarity along the Michigan Avenue side of Walmart near Saline Saturday afternoon to protest against the nation's largest food retailer's plan to sell Monsanto's first genetically engineered sweet corn.
They chanted, "Processed, frozen, fresh, or canned, GMOs must be banned," and "Walmart, just say no to GMO."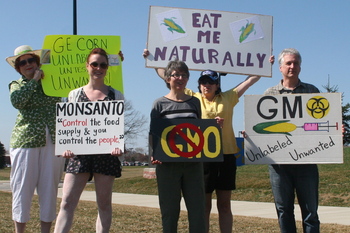 Courtesy of Kurt Gleichman
The national consumer organization
Food & Water Watch
is leading the national campaign and is calling Saturday a National Day of Action. Volunteers across the nation are organizing events at Walmarts to let the company know that consumers don't want the genetically modified corn because it is a potentially dangerous product.
The goal is to convince Walmart to commit to not selling it by April 1, the date when the corn would first be planted.
"Whether you shop at Walmart or not, they are the largest U.S. food retailer, and if they won't sell genetically engineered sweet corn, it's likely that farmers won't plant it," said Kurt Gleichman of Saline, who along with his wife Hillary organized Saturday's local protest. "Genetically engineered sweet corn will not be labeled, so you won't know what you're buying."
Walmart issued a statement last week saying that it hasn't yet made a decision about whether it will sell the corn, but stated that it is aware of the concern.
Roundup Ready GE sweet corn is the first genetically engineered vegetable of this type to be commercialized by Monsanto. It was approved by the USDA.
Gleichman says that Monsanto's genetically engineered sweet corn has not been tested for human safety and that it contains three different genetically engineered traits that were previously approved but that have never been used in food eaten directly by people. They are corn-borer resistance, rootworm resistance, and tolerance for glyphosate, the main ingredient in Monsanto's herbicide Roundup.
"It's bad enough that GE ingredients in some form or another are in about 80 percent of highly processed foods like cookies and chips, but with this new genetically engineered sweet corn, even people who avoid packaged junk food for fresh corn could run the risk of unknowingly consuming high doses of genetically engineered material since labeling is not required," said Wenonah Hauter, executive director of Food & Water Watch.
Genetically engineered sweet corn is intended for frozen and canned corn products, but could also be sold as corn on the cob.