Posted on
Thu, Jan 26, 2012 : 5:58 a.m.
Art projects for Justice Center lobby and Allmendinger Park earn nod from Public Art Commission
By Ryan J. Stanton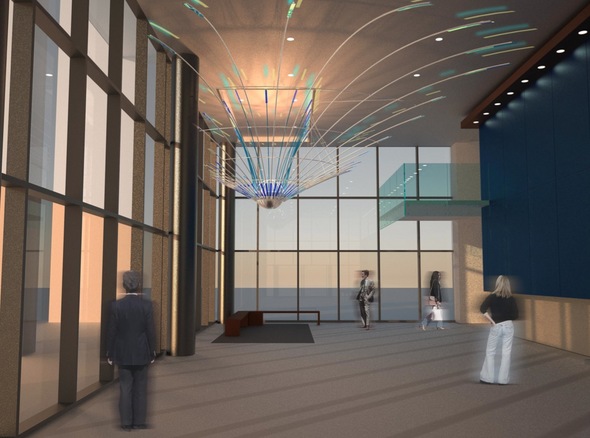 Courtesy image
The
Ann Arbor Public Art Commission
is endorsing
a piece titled "Radius"
to liven up the lobby of the new Justice Center adjacent to city hall.
The commission unanimously chose the artwork by Portland artist Ed Carpenter on Wednesday from a pool of three proposals. The $150,000 city-funded public art project now goes on to the Ann Arbor City Council for final approval, possibly in February.
The Public Art Commission also decided on Wednesday to move forward on working with Ann Arbor artist Mary Thiefels on a mural project at Allmendinger Park.
Carpenter's proposed artwork measures 40 feet by 20 feet by 12 feet and is made of dichroic glass, aluminum and stainless steel, with integral LED spot and flood lighting.
"Like ripples from a stone tossed into a pond, 'Radius' emanates outward through the Justice Center lobby, a reminder of the interconnectedness of the public with the agencies serving them, and suggesting a network of cause and effect in the public realm," the proposal states.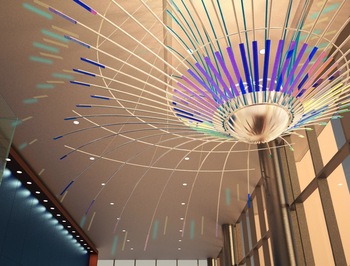 Courtesy image
Carpenter specializes in large-scale public installations ranging from architectural sculpture to infrastructure design. He works internationally from his studio in Portland, Ore.
His work can be found inside the Portland Justice Center, Michigan State University's Brody Hall, Rockefeller Center in New York, Sky Harbor International Airport in Phoenix, a U.S. Courthouse in Seattle, Orlando City Hall and many other places.
Aaron Seagraves, the city's public art administrator, said one of the reasons Carpenter's proposal was preferred was because it uses more of the lobby space than the other proposals, and it will be visible both indoors and outdoors, day and night.
John Kotarski, who was recently appointed to the art commission, said he particularly likes the concept behind the project.
"It places our police department, our justice department, at the center of our community, as it should be," he said. "It demonstrates that very effectively."
Mural at Allmendinger Park
The mural at Allmendinger Park will take shape on a shelter at the park that has 12 concrete pillars, which are to be the surface for the mural.
Art Commissioner Wiltrud Simbuerger, who served on the selection panel for the project, said Thiefels was chosen for the project because she wants to work with members of the community and get others to bring personal artifacts or "found items" to contribute.
"So these pieces would be implemented into the pillars," she said. "People could come and we could create like a library of the neighborhood. We really like this concept."
The selection panel for the project met on Nov. 21 and considered the qualifications of 13 artists who showed interest in the project.
At the time, four semi-finalists chosen: Yami Duarte of California, Bethany Kalk of Kentucky, Jefferson Nelson of Ohio, and Thiefels of Ann Arbor.
The commission decided on Wednesday it liked Thiefels' general concept but wants to work further with her to refine her proposal.
The commission previously agreed on a project budget of $10,000 and an overall budget of $12,200, allowing for a contingency of up to $2,200. Funding sources include $7,200 in donated funds and $2,800 to $5,000 from the city's pooled public art funds.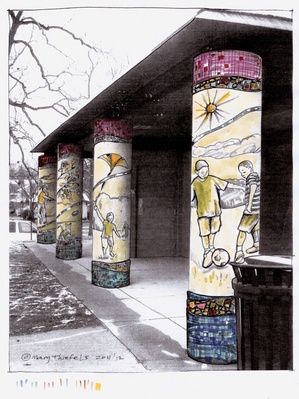 Courtesy image
Thiefels is the owner of
TreeTown Murals
in Ann Arbor. A recent winner of Ann Arbor's Golden Paint Brush Award, she is known for painting a number of public murals, including one depicting the faces of veterans on the side of Alley Bar on Liberty Street in downtown Ann Arbor.
Thiefels wrote in her proposal for the mural at Allmendinger Park that it's a timeless design meant to inspire people all year, with each of the 12 pillars representing a month of the year, divided into four seasons — with three pillars to a season.
"In the spring, lilac bushes blossom, children come out of hibernation to play hide and go seek, birds nest again in the oak and hickory trees, the playground comes alive with activity and laughter," she wrote. "On the summer pillars, kites fly and sports abound, like basketball, volleyball, tennis, baseball, and soccer. On the fall pillars, you see, colors changing, tree climbing, dog walking and frisbee tossing, sunny day picnics, and morning martial arts. Winter offers cross-country skiing, snowshoeing, and snow angels."
She proposes painting those illustrations onto a third of each pillar. The remaining area would be made up of tile or glass mosaic and a section of collected and found materials, which is where the community comes in.
"Here is where I intend to involve the adjacent neighborhood, local schools, general Ann Arbor community, and basically anyone who has a history with the park or an interest in leaving their mark," she writes. "I will invite anyone interested to contribute a stone, tile, marble, metal key, fossil, small trinket, shell, broken ceramic or parts of personal dishes, mirror, beads, or beach glass. These contributions represent, a wish, memory, or prayer."
Simbuerger said the art commission would like to work with Thiefels on the community theme, maybe also setting up a website for the project with stories behind the items being used.
"To me, this really grabs me," Kotarski said of the project. "It's that narrative thread … and I like that it's a neighborhood project. It brings the neighborhood in with those artifacts."
He also likes that Thiefels is a local artist.
"I really believe that one of the challenges we face and one of the things we need to constantly think of is developing a sustainable community of artists that could work in the public," he said.
Tony Derezinski, who is both an art commissioner and City Council member, said members of the Allmendinger family still living in the area also could contribute to the project.
Allmendinger Park, where the project is set to take place, is named after David Allmendinger who emigrated from Germany to Ann Arbor in 1851 and in 1872 started his own business, the Allmendinger Organ Co., which later became the Ann Arbor Organ Co.
The 8-acre park is located on Pauline between Hutchins and Edgewood. It contains softball fields, a restroom facility and water fountain, a play area nestled in an oak and hickory grove, picnic tables, a tennis court, grass volleyball court, basketball court, and soon, a mural.
Ryan J. Stanton covers government and politics for AnnArbor.com. Reach him at ryanstanton@annarbor.com or 734-623-2529. You also can follow him on Twitter or subscribe to AnnArbor.com's email newsletters.