Posted on
Thu, Feb 16, 2012 : 8:04 a.m.
Public comment on 6-month crime reporting lapse expected at U-M Regents meeting
By Kellie Woodhouse
The University of Michigan is expecting public comments at a Board of Regents meeting today regarding the six-month delay in reporting child pornography found in an employee area of University Hospital.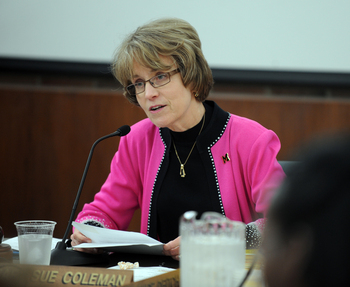 The university released an internal report of the reporting lapse on Feb. 10, but university spokesperson Rick Fitzgerald said he does not know whether regents will discuss the report or the delay at their meeting.
Fitzgerald did say that members of the public have signed up to discuss the topic during the public comments forum, which takes place at the end of the meeting.
Today's meeting at 3:15 p.m. in the Regents Room of the Fleming Administration Building is the first official meeting of the Board of Regents since AnnArbor.com first reported the six-month lapse in January.
The regents, however, have known about the lapse since at least December.
Regent Katherine White has called the six-month lapse "extraordinarily disappointing" and said the university is "working to correct the communication lines" between the school's police department and security operations.
Pediatric and internal medicine resident Stephen Jenson, 36, was charged with four counts of possessing child pornography in December, seven months after the porn was discovered. During those months, Jenson continued to work with children.
In its internal report, U-M said the reporting lapse was due in part to a poor decision by a lead attorney at the university's General Counsel's Office and unclear communication lines between hospital security and school police.
Regents are also expected to discuss roughly $155 million in dormitory construction and a proposal to eliminate age limits for the president and other executive officers.
Kellie Woodhouse covers higher education for AnnArbor.com. Reach her at kelliewoodhouse@annarbor.com or 734-623-4602 and follow her on twitter.