Posted on
Tue, Feb 21, 2012 : 10:28 a.m.
Public invited to garlic mustard pull event in April; Martha Darling named UWWC's 'Woman of the Year'
By AnnArbor.com Staff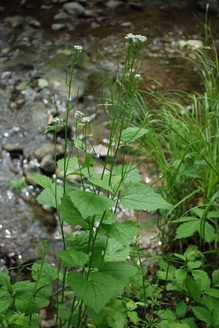 Rick Meader | Contributor
From an event to pull invasive species at Huron Hills golf course to Martha Darling being named "Woman of the Year" by the United Way of Washtenaw County, here's a roundup of some of the stories posted on AnnArbor.com's Community Wall over the last few days:
By: Michael Saunders: Garlic Mustard Pull at the Huron Hills Golf Course
The pull will be led by Michael Saunders, a local Eagle Scout from Troop 4, Michigan. This is the third pull that he has led in the area in order to eradicate the invasive species Garlic Mustard.
By: Deb Bratkovich: United Way of Washtenaw County Names Martha Darling 2012 Woman of the Year
Darling was chosen by the Power of the Purse committee for her extensive work with early childhood issues, including serving as a chair of the Leadership Commission of Success by 6: A Great Start Initiative.
By: A2Parks: Help us name the new river recreation amenitity at Argo
By: Chris Kochmanski: Daycroft Montessori School Adds My Urban Toddler as Second Venue for "Montessori Fundays"
By: Geoff Larcom: A bike with automatic shifting and healthy, easy, self-made salads among business plan winners at EMU's Skandalaris competition for area students
By: Second Baptist Church: SBCYPSI: Second Baptist Church of Ypsilanti's Annual Men's Day Celebration
By: Dawn Farm Education Series: Learn about the Physiology of Addiction ...
By: Maureen Tobin: Growing Your Own Food - Now What?
By: Jan Hack: Ann Arbor YMCA to kick off Strong Kids Campaign on February 26
By: shutthefrtdoor: Ypsilanti City Counsel votes to institute 1% income tax on city residents.
From: KidneyMI: Free Kidney Screenings for World Kidney Day on March 8th
By: Elaine F. Owsley: Former Major League Pitcher to be Lenten Speaker
By: Erik Gable: Artists sought for sixth annual Art-A-Licious festival
By: U-M Depression Center: Depression on College Campuses conference
Arbor.com's Community Wall is a spot for local people to post local stories, news and announcements. To post a story, sign in to AnnArbor.com, then go to www.annarbor.com/community and use the Got News? Tell Us function at the top to submit your news. If you have a photo to add, e-mail it to us at community@annarbor.com, and we'll insert it into your story.