Posted on
Thu, Oct 28, 2010 : 6:03 a.m.
Questions surround Republican state House candidate Mark Ouimet's academic credentials
By Ryan J. Stanton
Republican state House candidate Mark Ouimet earned the master's degree he lists in his campaign literature from a Louisiana correspondence school that was raided by the FBI and determined to be a fraudulent diploma mill at one point, AnnArbor.com has learned.
Ouimet, a Washtenaw County commissioner running for Michigan's 52nd District House seat against Democrat Christine Green, acknowledged in interviews he obtained his master's in business administration from the now-defunct LaSalle University in Mandeville, La.
Ouimet obtained his MBA in the years following the federal crackdown, when it appears LaSalle was beginning efforts to clean up its act and distance itself from its fraudulent past. However, much skepticism still surrounded the school, and despite curriculum changes, it never received accreditation before going out of business.
According to media reports, the FBI raided the Louisiana school in July 1996 following a five-year investigation, finding it made bogus claims about being accredited and defrauded thousands of students. The school, with only a handful of workers, pulled in roughly $36 million from selling phony degrees from 1989 to 1996, the FBI said in court filings.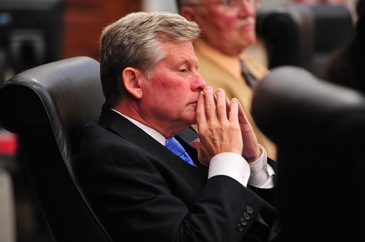 Ryan J. Stanton | AnnArbor.com
LaSalle's founder, Thomas Kirk, pleaded guilty to conspiracy to commit tax evasion, wire fraud and credit card fraud. He was sentenced to five years in prison.
Ouimet said he enrolled at LaSalle in 1997 and completed his online degree in 1999. He denied knowing anything about the university's reputation as a fraudulent diploma mill or the fact that it was never an accredited academic institution.
"That I don't know," Ouimet said. "I mean, what I did is I searched for something that I could do and still work, and where I didn't have to go back and take additional classes. Is this at the academic level of the University of Michigan? No. But I don't say that it is."
At the time, Ouimet was working for Northwood University, where he served in various administrative roles before he resigned in 2002 for undisclosed reasons.
Allen Ezell, a retired FBI agent and leading authority on phony diplomas, said he remembers well the FBI's investigations into LaSalle. He said any degree handed out by LaSalle before the raid is "utterly worthless," and he questions the legitimacy of any degree after that, too.
"I don't know if any degrees from LaSalle can be viewed by the academic community as legitimate because of the foundation on which the school was built," Ezell said. "If the house isn't built on a firm foundation, the house is no good."
During a recent interview, Ouimet produced a copy of his diploma from LaSalle, which states he graduated summa cum laude in 1999. He also produced a transcript dated March 9, 2000, showing he completed 35 credits and maintained a 4.0 GPA.
However, he said it wasn't a rigorous academic curriculum and he certainly doesn't flaunt the degree.
"This is an online university and I took an online university because I was working," Ouimet said, adding he wanted to take business classes to further build on his personal knowledge and background. He stressed he was unaware of the school's accreditation status and said he never used the degree to get a job or a promotion.
The Midland Daily News reported upon Ouimet's departure from Northwood in 2002 that he had served as vice president of administration before he was named chancellor in August 1999, the same year he obtained his MBA. Ouimet said the degree had nothing to do with it.
Ouimet, who holds a bachelor's degree from Northwood, also received an honorary doctorate from Northwood during his tenure there. His title then became "Dr. Ouimet." He said he never asked anyone to call him that, but the title shows up on university documents and other places.
Washtenaw County Democratic Party officials have questioned Ouimet's academic credentials since noticing recently it doesn't state anywhere on Ouimet's campaign website or in his campaign materials where the LaSalle University he attended is located. Democratic Party officials checked with the only accredited LaSalle University they could find, which is located in Pennsylvania, and discovered there was no record of Ouimet ever being there.
Federal authorities believe LaSalle University's founder named it purposely to be confused with the more reputable LaSalle University in Pennsylvania.
Experts say there's little question the Louisiana school was a fraudulent operation from 1989 to 1996, during which time students were able to pay thousands of dollars to obtain degrees requiring little or no academic work. But it appears to have operated legally within the bounds of Louisiana's lax state laws in the few years it was still in business following the FBI raid.
John Bear, a San Francisco-area writer and expert on diploma mills, said he devoted a fair amount of space to the LaSalle scandal in his book titled, "Bears' Guide to Earning Degrees by Distance Learning." He questions the worth of any degree from LaSalle, as well as anyone naive enough to think a master's degree can be earned without doing much work.
"When people are exposed (for having a degree from LaSalle), what the person often says is, 'Well, how could I have known?'" Bear said.
Bear argued, "even the tiniest bit of due diligence" by anyone seeking a degree from LaSalle would have revealed the school for what it is.
"It's not a degree that anyone would accept," Bear said. "But I suppose there are some well-meaning — generally not really bright — people who believe everything they're told."
The LaSalle scandal made national news in publications like USA Today and the Chronicle of Higher Education in the late 1990s.
Two months after the FBI raid in 1996, the U.S. attorney's office released an 18-count indictment against Kirk, who set up LaSalle under the auspices of the World Christian Church to shield the school from state regulations and taxes.
To maintain the school's image as a Christian institution, Kirk had built a temple, laced brochures with religious references, and claimed to be a church minister under a vow of poverty, even as he lived in a $1.5 million mansion and drove a Lexus, according to reports.
In a quest to erase its past reputation, LaSalle announced in 1997 it had formed a new governing board of high-profile community members. But none of the new board members had experience in education administration, according to reports in The Times-Picayune newspaper in New Orleans, which chronicled the school's demise.
Later that same month, federal prosecutors filed felony tax evasion charges against LaSalle's executive director and related charges against a former board member.
By July 1997, LaSalle had moved to shed the skin of its fraudulent past by transferring the school to a new nonprofit corporation, leaving its old shell to deal with tax and legal liabilities. The new LaSalle Education Corp. took over all educational responsibilities from the World Christian Church, removing the school's religious trappings.
That same month, the U.S. Marshal's Service auctioned off Kirk's white-columned, Mandeville mansion for about $1.3 million, while Kirk remained in prison.
In October 1998, LaSalle's leaders announced they were working on seeking accreditation recognized by the U.S. Department of Education, hiring new faculty, streamlining course offerings and revamping curricula. Pat Brister, a prominent Republican who later served as chairwoman of the Louisiana Republican Party, chaired LaSalle's board of trustees.
Skepticism about LaSalle remained, according to media reports. A loophole in Louisiana state licensing laws, which exempted universities owned by nonprofits, prevented state officials from monitoring the school's activities and assessing its legitimacy.
In 2000, LaSalle settled a class-action lawsuit brought by former students for an undisclosed amount of money. One student sued LaSalle separately in 2000, claiming school leaders told her in late 1998 that she would receive a doctorate degree from an accredited school.
In June 2000, LaSalle was officially denied accreditation after a two-year drive. Two months later, school officials announced LaSalle would be changing its name to Orion College. But in late 2001, after a long battle against slumping enrollment and public skepticism, officials announced the short-lived Orion College would be shutting its doors.
Since its demise, the school's reputation continues to live on, with controversial reports surfacing from time to time of public officials claiming to have legitimate degrees from LaSalle.
A National Nuclear Security Administration employee in 2004 admitted his master's degree from LaSalle was a "joke" when questioned by investigators from the U.S. General Accounting Office. For about $5,000, he said, he obtained the degree based on life experience, courses he had taken previously in the military, and courses for which he read books and wrote papers.
The GAO's investigation led to a report that found 28 high-ranking federal officials held degrees from diploma mills like LaSalle where, in exchange for money, the so-called universities handed out degrees backed by little or no academic work. Armed with a bogus degree, some employees were able to qualify for promotions and higher pay — and in some cases, the government actually paid the cost of the degree, according to the report.
"Unaccredited schools, and the quality of education they offer, vary significantly," the GAO report concluded. "At one end of the spectrum are schools that offer standard curricula traditionally found at accredited universities. Other schools, commonly referred to as diploma mills, sell academic degrees based upon life experience or substandard or negligible academic work. Some diploma mills require no academic work at all and merely sell degrees for a fee."
Ryan J. Stanton covers government and politics for AnnArbor.com. Reach him at ryanstanton@annarbor.com or 734-623-2529.