Posted on
Thu, Dec 2, 2010 : 6 a.m.
It's time to re-learn winter driving
By Rich Kinsey
All but the newest drivers in Michigan know how to drive in the snow. Why is it that we all have to re-learn each year?
Patrol officers everywhere in the state dread the first snowfalls because of all the crashes the downy flakes or "wintery mix" cause. The first snowfalls of the season cause an inordinate number of crashes.
For our own safety, the safety of our neighbors and emergency responders, let's resolve to drive more safely this winter. Being prepared for the drive and driving slower is key.
Preparing for the upcoming perilous journeys on Michigan roads starts with making sure your vehicle is ready to go.
Check your tires. Do they have enough tread to get you through the snow?
Do you have a snow/ice scraper in your car?
Are your defrosters, windshield wipers and windshield washer fluid pumps and reservoirs operational and full?
Do you have sunglasses for the added glare from the snow and salt spray on your windshield?
Do you have warm clothes or blankets in your car in case the road you are on is shut down and you are low on fuel? (Remember it is best to keep your gas tank at least one half full during the winter to avoid condensation in the tank and so you have enough gas in case you are stranded).
Do you have a cell phone in the unlikely event you land in the ditch and must call for a wrecker or help?
If you answered yes to all these queries, you have the right equipment.
Next we must be mentally prepared for the journey through Michigan's winter wonderland. Check the local weather report. Bad weather, snow and slippery conditions mean you need more time for your commute. You must also factor in the time to properly clear your windshield of snow, ice and frost. Therefore, you will have to set your alarm a little earlier in the morning.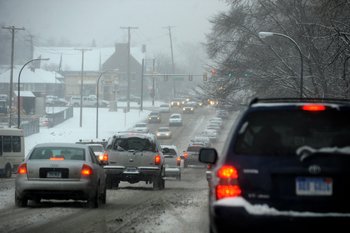 Melanie Maxwell | AnnArbor.com
The absolute key to safer winter driving is to SLOW DOWN. During the first snows, that means slow down a lot and reacquaint yourself with slippery conditions. Even if you own a four-wheel drive vehicle, bad conditions might mean you must actually drive below the posted speed limit.
Once the temperatures get down into the 30s, wet roads can "flash" and become icy with little or no warning — especially on bridges and overpasses. Remember black ice just looks like wet roadway until you try to maneuver on it and find your tires have no grip on the road.
Increase the distance between your vehicle and the car ahead because stopping distances are greatly increased on slippery roads. Avoid using cruise control in slippery conditions. Winter driving takes much more finesse. Try to avoid making sharp movements while steering, accelerating and braking.
Learn how to correct the invariable loss of traction and skidding that's part of winter driving. Find an empty and open parking lot and practice correcting skids. (This does not mean just doing continual "doughnuts"). Remember in general terms that if you go into a skid, take your foot off the accelerator and turn in the direction of the skid to correct your course.
When braking, if your car is equipped with antilock brakes, engage them and steer as needed. If your car doesn't have antilock brakes, you must "threshold" brake (which involves braking just up to the point of skidding and backing off on the brakes when you start to skid) or pump your brakes so you can continue to steer.
Remember, once you "lock" your brakes, you will lose your ability to steer and your car will head in whatever straight line it was heading when the skid started.
Let's all slow down this winter so we can enjoy the splendor of our winter wonderland and keep each other safe.
Lock it up, don't leave it unattended, be aware and watch out for your neighbors.
Rich Kinsey is a retired Ann Arbor police detective sergeant who now blogs about crime and safety for AnnArbor.com.