Posted on
Fri, Mar 30, 2012 : 9:25 a.m.
Reader shares email about freeing of Hutaree militia group members; U of M campus lights up for World Autism Awareness Day
By AnnArbor.com Staff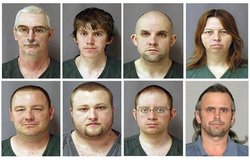 From a reader sharing an email commentary about the Hutaree trial to the University of Michigan marking World Autism Awareness Day, here's a roundup of some of the stories posted on AnnArbor.com's Community Wall this week:
By: Chase Ingersoll: Email from a close follower of the Hutaree Militia Trial
I'm sure there will be plenty of news articles about this very soon but I wanted to announce that most members of the Hutaree militia group have been set free! Today, Judge Victoria Roberts called an end to the trial for the (now debunked) conspiracy to kill policemen and overthrow the U.S. government. She found that the prosecution did not have sufficient evidence to proceed.
By: Eric Smith: Light it Up Blue for Autism Speaks U!
On Monday, April 2nd, Autism Speaks U at the University of Michigan - Ann Arbor will be lighting up our campus blue for World Autism Awareness Day.
By: AAAPTG: Piano Students Receive Awards from Ann Arbor Area Piano Teachers Guild Foundation
By: Washtenaw County Water Resources Commissioner's Office: Portage and Baseline Lake Levels to Be Raised 3/30/12-4/6/12
By: theresa ceccarelli: Tauber Institute for Global Operations Finalist for Award and Challenges of Creating a Global Company
By: Emma Jackson: YHS Robotics Team wins award
By: bluehoo: Photo Exhibit Celebrating CFAA 25th Anniversary
By: Janet Hawkins: WCC Earth Day Event Set For April 12
By: bbbswashtenaw: Big Brothers Big Sisters Match of the Month: Laquita and Jeovana
By: Leslee Neithammer: Green My House seminar
By: Jaimee Lofquist: Mollie Ruth Reaches Up and Reaches Out
By: Thomas Rollins: Bethesda Church & The Washtenaw Chapter of the Red Cross Blood Drive and Bethesda Church Presents Free Movie Night--Featuring The Passion of the Christ
By: Dawn Farm Education Series: Teens Using Drugs: What To Know/What To Do
By: Meaghan McCann: Pay Per Click Club April ThinkTank
By: Brianna Blossfeld: Arts & Health Conference Early Registration Ends March 31, 2012
Volunteer Opportunity - HOSPITAL ART VOLUNTEER
Volunteer Opportunity - VOLUNTEER MUSICIAN
Volunteer Opportunity - ART CART VOLUNTEER
Arbor.com's Community Wall is a spot for local people to post local stories, news and announcements. To post a story, sign in to AnnArbor.com, then go to www.annarbor.com/community and use the Got News? Tell Us function at the top to submit your news. If you have a photo to add, e-mail it to us at community@annarbor.com, and we'll insert it into your story.