Posted on
Thu, Mar 15, 2012 : 11:44 p.m.
Red Cross opens shelters for storm victims, accepts donations for relief
By Cindy Heflin
The Washtenaw-Lenawee Chapter of the American Red Cross has established two shelters for people affected by the tornado that caused extensive damage in the Dexter area and a storm that caused flooding in Ann Arbor.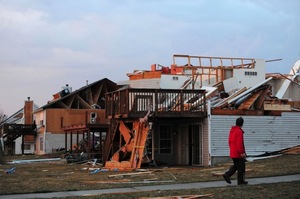 Angela Cesere | AnnArbor.com
A shelter for tornado victims has been set up at Mill Creek Middle School, 7305 Dexter Ann Arbor Road. The flooding shelter in Ann Arbor, jointly operated with the Salvation Army, is at 100 Arbana Drive.
Anyone who needs assistance as a result of these storms can go to one of the shelters. In addition to a place to stay, the Red Cross is providing food, health and mental health services and other basic needs.
Hawes said many people have called asking how they can help. The best way is make a donation either by calling (734) 971-5300 or going to www.wc-redcross.org.
The Red Cross is not accepting donations of food or clothing. People who want to make those kinds of donations can call 211, but she said monetary donations are the best way to help.