Posted on
Thu, Feb 2, 2012 : 3:08 p.m.
State Rep. Mark Ouimet named Michigan Townships Association 'Legislator of the Year'
By Tom Perkins
When 52nd District state Rep. Mark Ouimet sat at the Washtenaw County Board of Commissioners' table for several terms, he was among the minority Republicans.
But he said his Democratic counterparts treated him with respect.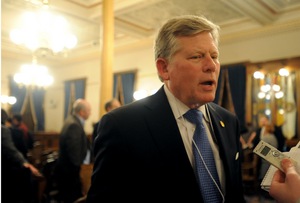 Angela Cesere | AnnArbor.com
Now that the freshman lawmaker is the chair of the House's
Local, Intergovernmental and Regional Affairs Committee
and with the party holding power, he said he is keeping that fair treatment in mind as he works with the Democratic minority.
His commitment to working with both sides of the aisle caught the attention of the Michigan Townships Association, which named Ouimet its 2011 "Legislator of the Year."
According to an MTA news release, the honor was due in large part to Ouimet setting a "courteous and respectful tone" as the contentious emergency manager legislation made its way through his committee.
"I've always been in the minority in my political position and I know what it's like," he said. "On my second and third term on the County Board, the Democrats treated me exceedingly well.
"And I also know that I can't walk in a room and say 'Hey, I got the votes, we're going to do it this way.'"
Ouimet was elected to represent the 52nd District in November 2010. The MTA represents 1,200 townships statewide.
The emergency manager law was the first to come through the committee, which is comprised of nine Republicans and six Democrats, and Ouimet said he stepped away from the debate and questions over the legislation. Instead he sought to ensure that those on all sides of the issue had a fair hearing and were able to ask questions.
"I put my party affiliation on the sidelines," he said. "My job is to run the meetings, make sure we adhere to the rules and make sure everyone has a fair opportunity to ask questions and get hearings."
He also noted that he made sure every amendment the Democratic caucus proposed received a hearing, though none were ultimately approved.
"I didn't say 'No, we're not going to listen to one amendment or the other," he said. "People who have been through the process say that was done different than most other committees. Most committees that have a majority don't let (the minority party) add in a thing."
Under Ouimet, sub-committees also have an equal balance of Republicans and Democrats, and the chair of those sub-committees alternates between parties, which Ouimet said is an unorthodox approach.
"I catch a little static from some folks but, quite frankly, I think we've gotten better legislation this way," he said.
Nearly 30 pieces of legislation have passed through Ouimet's Local, Intergovernmental and Regional Affairs Committee and have been enacted into law. He said one of the more significant was the Urban Cooperation bill, which gives government units unprecedented abilities to work together.
But Ouimet acknowledged there are plenty of partisan votes and said he doesn't seek to sugarcoat anything when working with Democrats, but said he tries to work collaboratively as much as possible.
"People are tired of the Republican-Democrat controversy and I just approach things by trying to put the partisan politics aside for what I think will result in good outcomes," he said. "The MTA saw something different there and I think they're looking for something different."