Posted on
Thu, Apr 29, 2010 : 2:02 p.m.
Republican senators reject Granholm's appointments to EMU, other boards
By AnnArbor.com Staff
LANSING — Republicans who control the Michigan Senate on Wednesday rejected several of Democratic Gov. Jennifer Granholm's appointments to public university governing boards, including Eastern Michigan University.
The Senate voted 21-17 mostly along party lines to reject 14 of Granholm's appointments to the boards of Central Michigan, Eastern Michigan, Ferris State, Grand Valley State, Michigan Technological, Northern Michigan and Western Michigan university boards.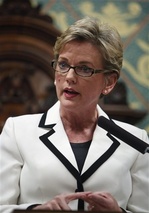 It's a rare move that Democrats said smacked of partisan politics. The dispute is over whether an outgoing or incoming governor should have control over university board appointments that take effect Jan. 1.
Granholm leaves office at noon that day. She can't run for office again because of Michigan's term limits law.
Republican Senate Majority Leader Mike Bishop has said that many of the appointees nominated by Granholm are qualified. But he said the appointments should be reserved for the next governor, who takes office the same day the new university board terms begin.
Most of Granholm's appointees are Democrats but a few are Republicans.
Her administration says the move by Senate Republicans goes against past practices. The GOP-run Senate allowed Republican Gov. John Engler's appointments to stand as Granholm came into office in 2003.
Democrats blasted Republicans for pushing the university board issue rather than focusing on the economy or state budget. Michigan has the nation's highest unemployment rate and a state government budget deficit projected at $1.7 billion for the fiscal year starting Oct. 1.
Gubernatorial appointments are considered confirmed unless the Senate rejects them within 60 days. Granholm made the appointments, in late March. They included Michael D. Hawks of Saugatuck and Erane C. Washington-Kendrick of Ypsilanti to the Eastern Michigan University board of regents
"The citizens of this state and our state universities are the real losers today," Granholm spokeswoman Liz Boyd said in a statement. "Senator Bishop rejected qualified appointees to serve our state universities, making them nothing more than partisan political pawns."
Republican Sen. Bruce Patterson of Canton Township was the only member of his party to vote against rejecting Granholm's appointments.