Posted on
Thu, May 13, 2010 : 12:03 p.m.
Residents applaud Pittsfield Township's opposition to Ann Arbor Municipal Airport runway expansion
By Art Aisner
Several residents opposed to expanding a runway at the Ann Arbor Municipal Airport reiterated their concerns to Pittsfield Township government officials Wednesday night, then praised them for their strong support.
"What you did by picking up the slack that Ann Arbor City Council did not do will make a difference," Pittsfield resident Sol Castell said at the start of the township board's meeting. "The only way to keep the community safe is by keeping the runway the way it is."
Castell and other members of the Committee for Preserving Community Quality have spent the past 16 months battling city and airport officials who want to expand the main runway by 950 feet. They argue it would be unsafe and would allow larger planes to land there.
Proponents say expansion would make the airport, located south of Ellsworth Road between State and Lohr roads, safer by enabling pilots more reaction time. The project would be funded largely by federal grants.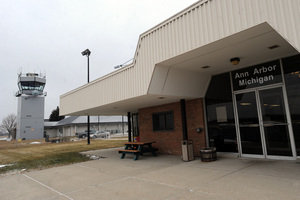 Melanie Maxwell | AnnArbor.com
The Ann Arbor City Council was poised to approve funding for the initial stages of the project in its annual capital improvement plan earlier this year, but a groundswell of citizen opposition led to a delay.
"This was such a secretive process and, fortunately, you got some warning here in Pittsfield so you could fight this," long-time Ann Arbor resident Barbara Perkins told board members. Perkins said she has actively fought expansion plans four times before, and it had never gotten this close to approval.
A draft environmental study conducted at the council's request was released in March and also recommended extending the runway.
Andy McGill, a retired professor who lives in the Stronebridge subdivision just across Lohr Road from the runway, presented township officials with a bound report refuting the study's findings, which he called "deeply flawed."
During a brief presentation, McGill said the report omitted some potential pollution problems and used faulty statistics that did not meet Federal Aviation Administration requirements. He also said the airport has a good safety record and likely would continue to have one even when operating at capacity.
"This is an unwarranted and unnecessary solution to a non-existent problem, basically," he said.
No city or airport officials attended the meeting.
The board voted unanimously to formally send its response to the environmental study and reiterate its opposition to the expansion to the Ann Arbor City Council. Trustee Stephanie Hunt was absent.
Committee member Kathe Wunderlich said she's encouraged by the township's support but will still work hard to educate the public about the issue. The group has a website and continues to raise money.
Wunderlich said contributions ranging from $5 to $500 from about 100 donors who live in Ann Arbor and Pittsfield and York townships have come in recent months.
Township officials lauded the group for taking the initiative.
"Without the hard work and perseverance of the community it wouldn't have come this far," Trustee Michael Yi said. "I'm grateful and hopefully we'll succeed in stopping this."
Art Aisner is a freelance writer for AnnArbor.com. Reach the news desk at news@annarbor.com or 734-623-2530.