Posted on
Sun, Jun 9, 2013 : 2:23 p.m.
Results from the 2013 Ann Arbor Marathon
By Sven Gustafson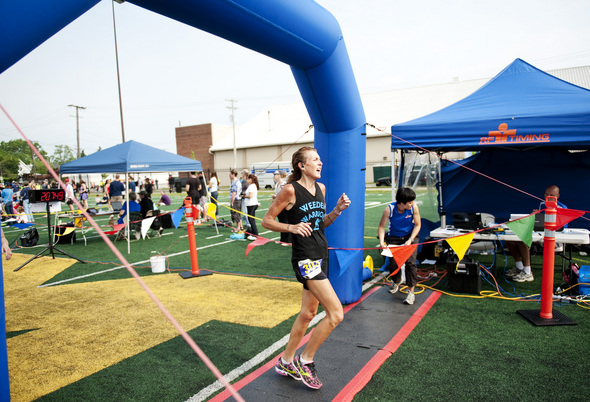 Daniel Brenner | AnnArbor.com
Related coverage:
University of Michigan alumnus and Seattle resident Neil Rao won the second annual Ann Arbor Marathon Sunday, while fellow U-M alumna and Saline resident Josephine Weeden won the women's race. The marathon fielded 415 runners, while more than 900 competed in the half marathon and 576 finished the 5K run/walk.
The top 20 finishers from each event are as follows:
Marathon
Men's
Neil Rao 02:41:06
Jake Gillette 2:45:07
Marco Capelli 2:45:23
Jeffrey Schlenker 2:51:17
Rich Power 2:53:27
Meng Ting Chung 2:56:52
Scott McLean 2:59:26
James Fogel 3:04:21
Ed Hovick 3:04:40
Brent Bauer 3:05:08
Nicholas Weidmayer 3:05:39
Stephen McKenna 3:09:34
Tim Bell 3:11:31
Thomas Yeh 3:12:25
Ricky Campbell 3:12:57
Ulvaro Chaco 3:13:44
Michael Lavallee 3:14:27
Mark Brandt 3:15:34
Andrew Weber 3:16:44
Andrew Ulrey 3:19:31
Women's
Josephine Weeden 3:04:26
Kelsey Bragg 3:11:42
Sandy Stafford 3:21:48
Angela Justice 3:29:38
Tania Gainza-Burnett 3:30:10
Stephanie Kapanowski 3:30:36
Lauren Habenicht 3:33:07
Katherine Koniuch 3:34:05
Danie Matusik 3:36:32
Grace Wasielewski 3:37:01
Anita Harless 3:37:36
Jessica Marlier 3:38:55
Kiyoko Ikeuchi 3:39:01
Kathy Brzoznowski 3:39:40
Brett Bigger 3:45:33
Asako Matsumoto 3:48:59
Shannon Poe 3:49:12
Christie Bane 3:49:59
Cortney Boes 3:50:07
Kelly Tuinstra 3:50:35
Half marathon
Men's
Greg King 1:22:06
Adrian Ottens 1:23:12
Scott Lieberman 1:23:56
Edward Kerr III 1:24:41
Jorge Ospina 1:26:19
Nick Hopkins 1:28:20
Matthew Van Jura 1:30:54
Michael White 1:31:46
Philippe Rio 1:32:07
Wade Corby 1:32:13
Chris Dresser 1:32:30
Michael Marano 1:33:59
Kevin Karr 1:34:16
Max McIsroy 1:34:18
Timothy Lewis 1:34:32
David Caine 1:34:52
Mark Sampson 1:35:15
Hassan Irani 1:35:31
Jeff Rothstein 1:35:42
Jeremy Schweitzer 1:36:27
Women's
Nicole Kowalchick 1:30:49
Marcy Sacks 1:34:38
Melanie Worley 1:35:58
Manda Schweitzer-Miller 1:36:32
Shelley Binkley 1:39:10
Miriam Cohen 1:39:36
Kimberly McDevitt 1:39:54
Caitlin Litz 1:40:08
Meredith Barrett 1:40:50
Nikki Romano 1:41:27
Carrie Williams 1:42:57
Heather Marier 1:43:13
Sarah Campbell 1:43:19
Tara Ryan 1:43:23
Hannah Weatherford 1:43:35
Hayley Townsend 1:44:21
Emma Jurado 1:44:37
Alison Richardson 1:44:38
Aubrey Arnold 1:45:01
Amelia Acuna 1:45:05
5K run
Men's
Ben Coffman 16:52.9
Daniel Schorin 18:45.5
Travis Ickes 19:07.9
Thomas Heinlein 19:10.3
Matthew Dileo 19:28.1
Jon Muncie 19:32.8
Kevin Hudson 21:27.9
Mehul Kulkarni 21:29.2
Rian Bahran 21:29.4
Syn Yeo 21:41.1
Justin Michele 21:43.1
Bob Griffin 21:43.9
Scott Siegel 21:54.9
Brent Helton 22:09.1
Aidan Stead 22:20.1
Ethan Shuman 22:24.9
Clarke Taylor 22:29.2
John Reed 22:35.6
Robert Goldman 22:39.6
Jeffrey Clarke 22:42.4
Women's
Kirsten Anderson 22:11.1
Sydney Anderson 22:11.3
Lan Loffman 22:16.4
Ashlee Kucinski 22:59.8
Celia Kujala 23:07.4
Courtney Ciullo 23:18.5
Laura Liggett Salazar 23:28.3
Kara Mills 23:44.9
Jennifer D'Souza 23:56.5
Alana Greenspan 24:11.1
Jody Nicosia 24:35.5
Emma Kern 24:35.9
Alicia Curley 25:20.1
Dana Falk 25:20.9
Cassondra Smith 25:29.9
Priscilla Vega-Diaz 25:38.8
Shannon Mischle 25:59.9
Amanda Fowler 26:32.9
Tatiana Botero 26:33.8
Tessa Robertson 26:33.9