Posted on
Wed, Jan 19, 2011 : 8:29 p.m.
Rick Snyder lays out plan to fund Pure Michigan, build new bridge to Canada in State of the State
By Ryan J. Stanton
Melanie Maxwell | AnnArbor.com
Gov. Rick Snyder laid out a new agenda for Michigan in his first State of the State address tonight, stressing that the state is in a crisis — but one that can be solved.
"Simply put, Job One is jobs," Snyder said from the House floor inside the state Capitol, garnering his first of multiple standing ovations during the 45-minute speech.
Snyder said Michigan has an unstable financial model. He pointed to more than $54 billion in pension and benefit liabilities, lack of education among young people, and an economic climate that has left too many people unemployed or underemployed.
Snyder revealed tonight that part of his plan for improving Michigan's economy will be supporting a new bridge to Canada and fully funding the Pure Michigan ad campaign.
The Republican governor said another key step in moving Michigan forward is the setting of clear, measurable goals that serve as a catalyst for positive change.
He announced the creation of an online "dashboard" at michigan.gov/MiDashboard, a new tool that can be used to view Michigan's performance relative to the rest of the country in key areas like economic strength, quality of life, health, education and public safety.
"Many people don't like to be graded. It's time for that attitude to disappear," he said, adding he would provide a summary of the dashboard in every State of the State address he gives. "We will measure and measure and measure. And that is how we will succeed."
Economic development was the overarching theme. Snyder said the Michigan Economic Development Corp.'s strategy will change under new MEDC President Michael Finney, whom Snyder plucked after a successful stint as head of Ann Arbor SPARK.
Snyder said the MEDC will focus more on "gardening," or tending to the needs of existing companies already in the state, rather than "hunting," an economic development term used to refer to the process of luring out-of-state firms to the state with tax breaks.
"It means we'll focus first and foremost on building businesses that are already here in the state," Snyder said, naming business acceleration services, incubators and pre-seed funds as priorities. He also said Michigan must do a better job of connecting workforce development efforts with community colleges and economic development organizations.
Snyder called for an overhaul of the state's regulatory structure and the elimination of rules he says are no longer needed — like the requirement that retailers must place a price sticker on every item in the store. He said that costs the state's economy $2 billion annually and is unnecessary in today's world of bar codes and scanners.
The Ann Arbor businessman-turned-governor also talked about a new state Office of Urban Initiatives his administration is creating with offices in Detroit, Grand Rapids and the Saginaw-Flint area. Snyder said the state also must strongly support rural areas, which is why he's added rural development to the responsibilities of the state agricultural department.
The former Gateway executive offered few details about replacing the Michigan Business Tax with a 6 percent corporate income tax, but he said he'll be forthcoming with a proposal.
He said he plans to present a two-year state budget to lawmakers in mid-February — one based on outcomes and results, not a traditional line item approach. He said he wants the budget completed by lawmakers by the end of May. The state's fiscal year starts Oct. 1.
"Having a two-year budget will force tough decisions," Snyder said. "We will not play kick the can down the road to the next year."
He called for a revamped public health system with improved access to primary care, wellness incentives and more encouragement for citizens to exercise and quit smoking.
Snyder said he wants to focus on government reform at all levels, including townships, cities, counties and the state. He hinted at a restructuring of state revenue sharing in a way that offers significant incentives for jurisdictions that move toward service consolidation.
He said a special message on government reform will be presented to the Legislature in March, followed by a special message on education in April.
In addition to budget and tax reforms, Snyder said he's asking the Legislature to take action on several items, including changing the state's Emergency Financial Manager's Act. He said the current act does not allow intervention and assistance early enough and there needs to be more clarity over the powers of financial managers.
Snyder also said he wants to change the scope of the 21st Century Jobs Fund. He said he'll be asking the Legislature to lift restrictions on which industries can be aided by the fund, a move that could benefit the agriculture and information technology industries in particular.
Snyder received applause when he announced his budget would recommend full funding of the Pure Michigan ad campaign at an annual rate of $25 million. He noted a 2009 study showed every dollar spent on Pure Michigan ads resulted in more than $2 in state tax revenue.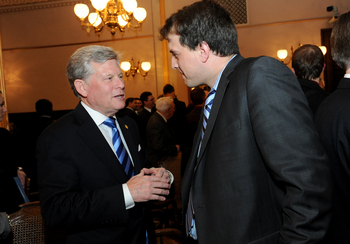 Melanie Maxwell | AnnArbor.com
Snyder also urged prompt passage of a capital outlay bill that implements the recommendations of the Natural Resources Trust Fund.
Later in his speech, Snyder called for construction of a new bridge connecting Detroit to Windsor, Ontario, stressing that Michigan must open itself to the promise and potential of international trade. He noted Michigan did roughly $44 billion in trade with Canada in 2009, while 1 of 8 jobs in Detroit is in an export industry, and 1 in 7 in Grand Rapids.
Snyder noted Canada has offered $550 million for the construction of the road system to connect to the bridge. He said the state last week secured a unique agreement from the Federal Highway Administration to use that investment toward the matching funds required for all federally-funded highway projects across the state.
Snyder assured Michigan taxpayers would not take on any debt related to the project.
Another major highlight of the speech came when Snyder announced the University Research Corridor — Wayne State University, University of Michigan and Michigan State University — would be entering into a research partnership with Procter & Gamble.
"It's ground breaking," Snyder said, calling it a collaboration that will speed ideas to the marketplace by simplifying the legal process companies and universities use to negotiate research projects. He said once the program is up and running, it would be extended from the University Research Corridor to all 15 public universities in the state.
"We can make the old unbelievable the new achievable. And we can make the improbable the new exciting reality for our children and theirs," Snyder said in his closing remarks. "We can, and indeed we must, begin right now to build a Michigan where the next generation has the chance to live, to work, to play, to prosper. So let's roll up our shirtsleeves and get to work."
Snyder's speech was well received by Washtenaw County lawmakers serving in Lansing — both Republicans and Democrats alike.
"It was very aspirational," said state Rep. Jeff Irwin, D-Ann Arbor. "He got into a few specifics that I really appreciated, particularly when he started talking about the idea of building a better environment here in Michigan for economic growth, and I thought it was interesting he focused on some of the elements I think are most important — things such as education. He made a big point of saying this isn't just going to be K-12, it's going to be P-20."
Irwin added he was encouraged by Snyder's remarks about revitalizing urban cores. As for rewarding communities that consolidate services, Irwin called that an interesting concept.
"The great thing about that for us is our communities are already working together," Irwin said. "The city of Ann Arbor, Washtenaw County, the city of Ypsilanti and surrounding townships — we're already working together in a number of ways."
State Sen. Rebekah Warren, D-Ann Arbor, escorted Snyder to the podium for his speech. Warren said highlights for her included Snyder identifying Ann Arbor SPARK as a model for statewide economic development, his plan to put outreach offices in core urban areas, and his asking for a true partnership with the Legislature to fix the state's problems.
"This gives me hope for the budget process ahead," she said. "His focus on a specific floor of $25 million for Pure Michigan funding and a focus on Great Lakes protection shows his dedication to the things that make Michigan a unique and special place to live, work and recreate. I hope that continues to be a priority for his administration as we struggle through the tough budget decisions ahead."
State Rep. Mark Ouimet, R-Scio Township, said he thought it was great that Snyder wants to fully fund Pure Michigan, which he called the state's best calling card.
"I think he hit on absolutely all the key issues we're facing in the state of Michigan," he said of his overall reaction to Snyder's speech. "He just didn't outline what the issue was. He outlined a roadmap how to resolve these issues. I thought it was very positive."
State Rep. Rick Olson, R-York Township, said he considers Snyder's speech merely a start to the conversation about the state's budget situation and he's still waiting for more details.
"We'll be looking for ways we can team up with what we agree with him on," he said. "Probably the issue we'll have the most discussion on will be his support for the Detroit River International Crossing. That's the one where we weren't sure what he was going to say. And for him to come out as strong as he did, that was a little bit of a surprise for most Republicans."
House Democrat Minority Leader Richard Hammel, D-Morris Township, said after the speech he was encouraged by Snyder's "pretty moderate" approach to issues.
"Taking pages out of the playbook of Democrats is OK with us, because those are important issues, whether it's providing health care, jobs for small businesses, DRIC and other issues that have been important things that we have pushed for for many, many years," Hammel said.
But Senate Minority Leader Gretchen Whitmer, D-East Lansing, said she was concerned Republican legislators would undercut the spirit of bipartisanship.
"Unfortunately, even as he speaks of leaving no one behind, legislative Republicans are already going down the same tired, old road by putting politics over progress," Whitmer said. "Instead, we need to work together to create and implement policies that move all of Michigan forward while not leaving any one group behind."
AnnArbor.com's Nathan Bomey contributed to this report. Ryan J. Stanton covers government and politics for AnnArbor.com. Reach him at ryanstanton@annarbor.com or 734-623-2529.