Posted on
Mon, Jan 16, 2012 : 8:02 p.m.
Rick Snyder protesters: 'We don't want our elected officials to be unilaterally dismissed'
By Ryan J. Stanton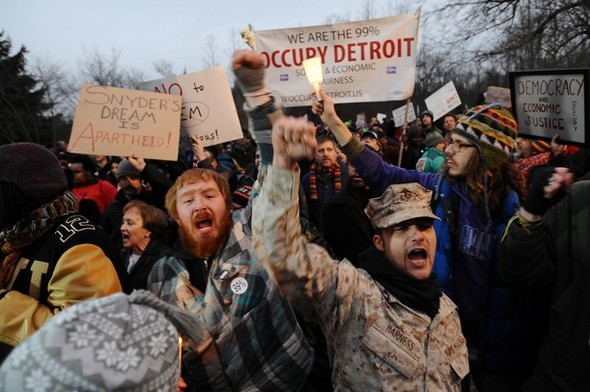 Melanie Maxwell I AnnArbor.com
As hundreds of marchers demonstrated outside the gates of Gov. Rick Snyder's private residence near Ann Arbor, loudly chanting in protest of Michigan's emergency manager law, the Rev. Charles E. Williams II had a quiet conversation with the governor's chief of staff.
Williams, pastor of the historic King Solomon Baptist Church in Detroit, said he hopes the governor is listening and is willing to find a way to help cities in Michigan that are struggling financially — without, as he put it, ruining their democracy.
"We elect mayors, we elect city council members, and we would like them to be a part of the process … in terms of rebuilding these urban cities," Williams said.
"We don't want our elected officials to be unilaterally dismissed," he said. "And that's the message that we're sending here today. We ask that you would let the governor know."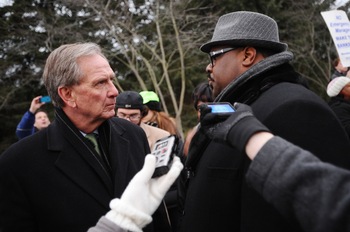 Melanie Maxwell | AnnArbor.com
Dennis Muchmore
, the governor's chief of staff, thanked Williams for sharing his concerns and called Monday's
Occupy for Democracy rally
a great example of democracy in action.
"We certainly recognize the concerns and we share those concerns, and we want to make sure that all of these cities are vibrant and have got a financial status for the future that can be sustained," he said in an interview afterward.
"I think everybody has a concern about what happens to cities or school districts or townships when they have a problem financially," he said. "We think that in each of these situations, what we've got to do is try to find some kind of common ground between the community to solve the problems. If we can do that, we will do that."
Monday's rally purposely fell on the Martin Luther King Jr. holiday in an effort to honor King's legacy by showing opposition to Public Act 4, Michigan's emergency manager law.
The law, which was approved by the Republican-controlled state Legislature last year and signed by Snyder, allows state-appointed emergency managers to remove local elected officials from office. Critics say the law is a threat to democracy.
"It's really wrong," said Ed Kudla, a teacher from Slauson Middle School in Ann Arbor who came to the rally to show his support for recalling Snyder and repealing the law.
"First of all, they take away money from cities, towns and villages — then they go after them with an emergency manager when they don't have enough money to pay their bills," he said. "And when they go in, they take public land, they bust unions and cancel contracts. Everything about it is wrong, and there's no end in sight."
The rally started at Washtenaw Community College. From there, carrying signs and chanting anti-Snyder slogans, protesters marched up to Parker Mill County Park, just down the street from Snyder's home, where Williams used a megaphone to deliver a message.
"Sometimes when you're sick, you have to go to the emergency room," he said, rallying the crowd. "Sometimes when you're spiritually sick, you have to go to the mosque or you have to go to the church. Well, on today, Gov. Snyder got a cold and we're making a house call."
Williams estimated there were about 3,000 people in attendance at that point, though police estimated the event attracted only about 800 people.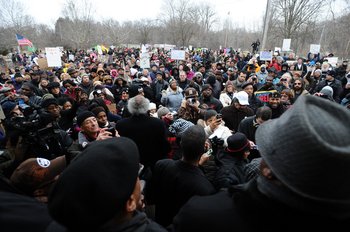 Melanie Maxwell | AnnArbor.com
The Rev.
David Bullock
, president of the Rainbow PUSH Coalition and Highland Park NAACP, stood alongside Williams at the rally.
He acknowledged attendees from several cities, including Benton Harbor, Flint, Inkster, Ypsilanti, Ann Arbor, Lansing, Grand Rapids, Pontiac and Detroit.
"We are unified today," Bullock said. "This is not a Benton Harbor fight. This is not a Grand Rapids fight. This is not a Flint or Ecorse fight. This is not a Detroit fight. This is the state of Michigan coming together."
From the park, the protesters marched about a half mile down Geddes Road to the front gate of Snyder's neighborhood, where several police officers stood guard.
The Michigan State Police, along with local law enforcement officials, worked to make sure proper security measures were in place to allow demonstrators to exercise their constitutional rights while taking into consideration traffic safety and crowd control concerns.
Despite some loud and angry chanting by protesters in opposition to Snyder and the emergency manager law, police described the event as orderly.
Snyder was in Lansing on Monday to offer remarks at the Greater Lansing Dr. Martin Luther King Jr. Holiday Commission Luncheon. He told the crowd at that event that Michigan must follow King's example by fighting poverty, racism and militarism.
But some ralliers on Monday argued implementing an emergency manager in Detroit would disenfranchise black voters and is thus racist.
As the crowd reached the gates of Snyder's neighborhood, the chant changed to: "Detroit won't go to the back of the bus. No EFMs. No racist cuts."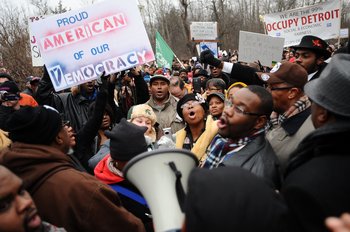 Melanie Maxwell | AnnArbor.com
If Detroit and Inkster both come under the control of an emergency manager, ralliers argued, more than half the black population in Michigan will be without local democratically elected representation. Bullock said it's even more egregious than that.
"If Detroit gets an emergency manager, over 75 percent of the African American elected officials in Michigan will be essentially useless," he said in a statement.
Brit Satchwell, president of the Ann Arbor Education Association, was one of many Ann Arbor area leaders who helped mobilize demonstrators. He said he doesn't think the law is intentionally racist, but it can't be denied that it disproportionately affects blacks.
"I don't think the people who devised it and are fighting as proponents of emergency managers are explicitly or intently racist, but I think at some point people have to take a look at the disproportionate effect it's having on communities of color," he said.
Satchwell said he thinks the law is more about union busting, though.
He's still hoping a petition to repeal the emergency manager law will be turned in soon with enough signatures. He said he was at an event in Detroit this month when organizers announced they had more than 170,000 of the 250,000 signatures they're aiming for.
"Over the summer, I had worried that the urban areas really hadn't been contributing enough to the petition drive," Satchwell said. "And when Detroit fell under the threat of an emergency manger, it was like the wolf was at the door and they came alive."
On hand for Monday's rally were representatives from several labor organizations, including the United Auto Workers, Michigan Education Association and AFSCME, as well as various activist groups, elected officials, church congregations and the NAACP.
"This is about democracy," said Washtenaw County Commissioner Yousef Rabhi, D-Ann Arbor, who was among the crowd of protesters.
"That's what we — the working people of America — have is our democracy," he said. "And when the governor steps in and tries to take that away, that's when we're really going to have a problem, and that's what folks are standing up here about."
Bullock echoed those thoughts, saying if democracy is good for Egypt, then it's good for Michigan, and "we will not tolerate emergency dictators."
"If we cannot vote, we don't have an America," he said.
Ryan J. Stanton covers government and politics for AnnArbor.com. Reach him at ryanstanton@annarbor.com or 734-623-2529. You also can follow him on Twitter or subscribe to AnnArbor.com's email newsletters.