Posted on
Sun, Oct 31, 2010 : 6 a.m.
Rick Snyder's campaign platform: the issues that shape Michigan's gubernatorial race
By AnnArbor.com Staff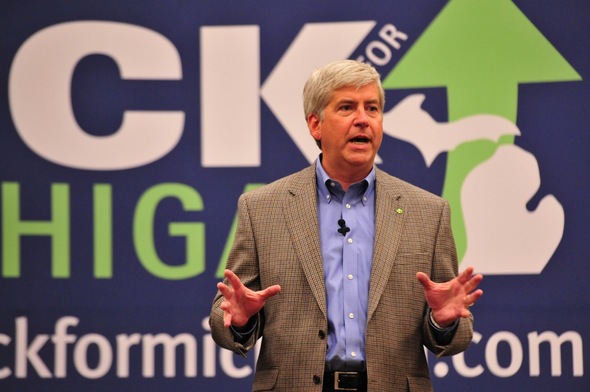 Ryan Stanton | AnnArbor.com
Republican gubernatorial candidate Rick Snyder, an Ann Arbor venture capitalist, and Democratic candidate Virg Bernero, the mayor of Lansing, recently visited with AnnArbor.com's editorial board in advance of the Nov. 2 election.
Here's what Snyder had to say.
Creating jobs
Says Michigan needs a lower and simpler business tax structure and a streamlined regulatory system that's more friendly to businesses. Wants to replace the Michigan Business Tax with a 6 percent corporate income tax.

Rick Snyder

Age: 52
Family: wife, Sue; children, Jeff, Melissa and Kelsey

Party: Republican

Career: CEO of Ann Arbor venture capital firms Ardesta and Avalon Investments (1997-2010); executive vice president, chief operating officer and president at Gateway Inc. (1991-97); tax accountant at Coopers & Lybrand (1982-91)
Political experience: none

Education: Bachelor's (1977), master's (1979) and law (1982) degrees from University of Michigan.
Key endorsements: Ford Motor Co. executive chairman Bill Ford Jr.; former Michigan Gov. William Milliken; Michigan Chamber of Commerce; Small Business Association of Michigan; Business Leaders for Michigan; Michigan Manufacturers Association; Michigan Regional Council of Carpenters and Millwrights.

"Jobs is the No. 1 issue by far. Government doesn't create jobs, we create an environment where jobs can flourish. We have one of the worst business taxes in the country, and it's bad for multiple reasons. It simply doesn't work, it's fundamentally unfair, it's overly complex and it simply should be eliminated."
Tax incentives
Believes the Michigan Economic Development Corp., which distributes tax incentives to Michigan companies, has become too politicized and is favoring specific sectors. Would end many of the state's tax incentives in favor of a lower overall tax structure. Says the state shouldn't favor specific industries.
"One big reason for the huge incentive package is you're essentially buying someone into the state to make up for the fact that you have a broken tax and regulatory system. Again, there may still be some strategic need for incentives, but not at that scale. If you fix the underlying tax and regulatory environment, they should be able to dramatically be scaled back."
Proposed budget cuts
Says cuts must be made to public employee compensation, but said he "wouldn't take away anything that's already been earned by anyone." Wants to reform Michigan's budgeting system through a system he calls "value for money budgeting," which would involve assessing the impact of individual services paid for by the state.
"If you're hiring me to be governor, I have a fiduciary duty to ask two questions. One: What's financially affordable? And secondly: What's comparable with the private sector? If you can't check those boxes, there's an issue that needs to be addressed. The thing I always say on that, though, is you have to be cognizant of the fact you're talking about people and their families and their livelihoods, so it has to be done in a very constructive, thoughtful, open way."
Education
Believes today's K-12 funding levels are sufficient. Says schools need to be held accountable for their performance. Wants to encourage service consolidation among school districts. Wants universities to get more involved in economic development.
"If you look at it again, you could have a superintendent servicing multiple districts, you can have a lot of shared services between these opportunities."
Social issues
Opposes abortion except in cases of rape, incest or when the mother's life is in danger, but says it's not an issue on his agenda. Opposes gay marriage but favors state-sanctioned relationships between same-sex partners. Favors embryonic stem cell research. Supports gun rights. Wants to invest in prisoner reentry programs and mental health initiatives to reduce crime rates.
RELATED CONTENT
"The best thing to help the criminal justice system is to create jobs, because if someone has a job and a family, they're not desperate, they're not in that same environment, and that's going to help a lot."

Other campaign issues
Opposes oil drilling in the Great Lakes; wants to increase the focus on wellness and prevention in the health care system; believes Michigan must revitalize Detroit and its distressed urban cities.

On whether he's too nice
"I'm just not a yeller and screamer. And people shouldn't mistake that for a lack of conviction and will to do things. I just view it as, I just try to be professional in how I operate and treat people with respect, but I will get the tough stuff done. And there are enough people in town that will tell you that's the case."

On why partisanship is counterproductive
"We don't need more fighters in this state. We need problem solvers."

On why municipalities need to consolidate services to avoid financial crisis
"Literally there's a fairly significant likelihood that you could have hundreds of jurisdictions going insolvent in the 2013, 14 time frame, if not sooner. It's not just a Michigan issue. This is the next hidden national issue."