Posted on
Tue, Dec 14, 2010 : 8:29 a.m.
Roadways still snow-covered, slick in spots; conditions should improve today
By Cindy Heflin
Editor's note: This story has been updated with information about street plowing in the City of Ann Arbor.
Motorists are likely to encounter slick spots on main roads and freeways today following a weekend winter storm — but conditions should improve later as temperatures rise to around 20 degrees. The Washtenaw County Road Commission is out again with its full crew of salt trucks and road graders, said director of operations Jim Harmon. "We've got icy patches and we've seen some blowing and drifting, especially in western Washtenaw County," he said.
He said crews are applying a mix of about 70 percent sand and 30 percent salt to roads with snow and ice on them. As temperaturs rise, making salt more effective, crews will switch back to salt.
Though most schools canceled classes Monday because of the storm, only two schools in Washtenaw County — Fortis Academy and Washtenaw Christian Academy — called off classes today.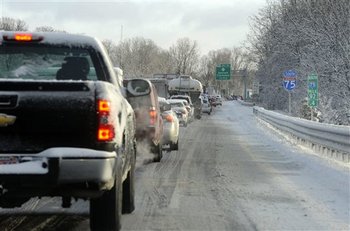 The Associated Press
The Road Commission made substantial progress Monday clearing subdivision and gravel roads but will be back at it today, working to get all roads down to bare pavement, Harmon said.
Sunday's winter storm and the bitter cold temperatures that followed it proved especially challenging for motorists. Michigan State Police Sgt. Chris Pascoe of the Ypsilanti post said troopers dealt with 48 crashes on Washtenaw County area freeways Monday and 31 on Sunday.
The cold rendered salt ineffective on roadways, leaving many covered with snow and ice well into Monday.
Harmon and Pascoe repeated the advice that's familiar to motorists: slow down and give other drivers plenty of room. Harmon said motorists will find some very slippery areas, especially at intersections. Also, ramps may have snow-covered and slick conditions.
In the City of Ann Arbor, Kirk Pennington of the city's Field Operations Division, said the city's 14 trucks have been out salting and sanding roads and plowing streets, He said motorists should find most main streets clear in the vehicle travel path. Crews have been able to plow about 50 percent of residential streets and expect to have them all plowed by Wednesday afternoon.
He said compacted snow and ice is difficult to remove. On plowed residential streets, motorists will find bare patches of pavement along with patches of snow and ice.
Today's forecast calls for mostly sunny and brisk conditions with a high temperature of 17 to 21. Winds of 15 to 25 mph will make the temperature feel more like zero though. We'll be back in the deep freeze tonight, with lows dropping into the single digits and wind chills around 5 below zero.
Wednesday will be partly sunny with high temperatures of 18 to 22 degrees.