Posted on
Fri, Sep 7, 2012 : 5:58 a.m.
Where have all the keg sales gone? Ann Arbor sales plummet since tag law took effect last year
By Kellie Woodhouse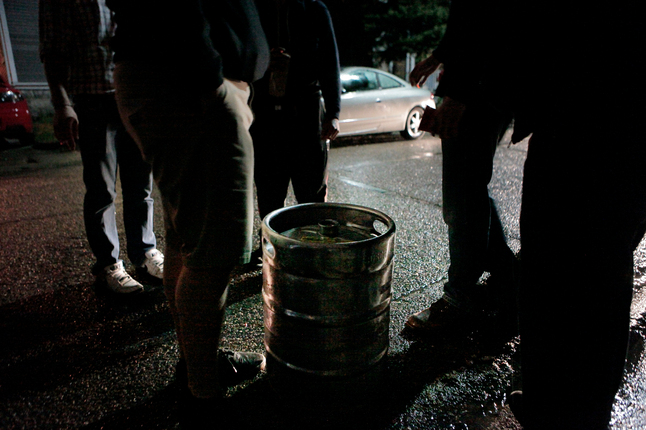 Chris Asadian | AnnArbor.com
Robert Kesto
knows how students think when it comes to their alcohol purchases. They like to buy cheap and in bulk, says the 20-something owner of
Champions Party Store
on Forest Avenue, near
University of Michigan
's campus.
"People like me and you, we have a few people over," Kesto said in a recent interview. "But these students, they're like 21, 22 or 23, and they used to buy [kegs] and have big, big parties."
Key word: "used to."
"They don't buy them anymore," he said.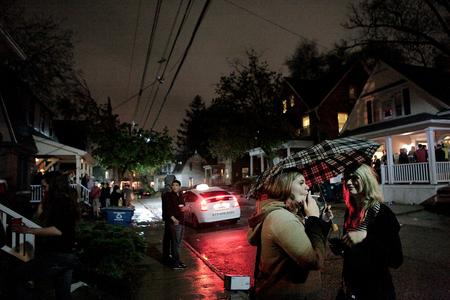 Chris Asadian | AnnArbor.com
According to Kesto, Champions sold an average of 200 kegs a week last fall. Now he sells about 10 kegs per week.
It's the same story for Vern George, co-owner of Stadium Market at the corner of Packard Road and East Stadium Boulevard. George says "keg sales are way down." Guss Batwo, manager of the Campus Corner Party Store on State Street, says he sold 30 kegs last week, a stark difference from the 70 or 80 kegs he says he would have sold last fall.
Liquor stores throughout Ann Arbor are seeing a dip in keg sales, which owners and managers attribute to a November 2011 law that requires retailers to attach a tag with the buyers name, address, phone number and ID information to each keg they sell.
That way, if police bust a party with underage drinking, they know who bought the keg and, in effect, supplied the alcohol to minors. Authorities also can track buyers who dispose of keg barrels and taps in unauthorized ways.
"That's a big turn off for a lot of students, they don't necessarily want to put their name and address on a tag for everyone to see," George said.
Removing a tag can result in a hefty $500 fine or, worse, jail time.
The goal, according to bill sponsor Michigan Representative Mark Meadows (D- East Lansing), is to stop the out-of-control college parties and blind pigs, where students charge entry for unlimited access to beer.
"In particular the law was designed to... identify who was actually providing the alcohol," said Meadows, who called the charge-for-admission parties a "money maker for a lot of people."
Kesto said that most students "aren't buying kegs for sure" anymore.
According to Dick Schear, owner of the Village Corner Party Store on Plymouth Road, located on South University Avenue before it was displaced by construction of the Landmark high-rise, students are apprehensive about linking their name to a keg purchase.
"People who used to buy kegs aren't buying them anymore. The buyers don't want to have to worry about liability," he said.
Added Kesto:
"With the tailgates and stuff, a lot of minors do drink out of those kegs. But before, whoever bought them, they didn't care if those younger ones drank or not."
Although keg sales have declined, Kesto says he thinks the law has had little effect on underage drinking.
"Is it safer for the kids? No," he said. "They buy cases, so they're going to drink anyway... If there's alcohol in the keg, or alcohol in the cans, they're going to drink anyway."
Angela J. Cesere | AnnArbor.com
This year, police issued 112 citations —mostly for excessive noise, open intoxicants and minors in possession of alcohol— during U-M's welcome weekend, which began Thursday evening and ended Sunday.
During the same period last year, there were 129 citations, although there was also a home football game at Michigan Stadium that weekend.
Meadows said although there likely is "an impact on underage drinking," the keg law is intended to curb the large parties, blind pigs and those who provide large quantities of alcohol to minors, and not necessarily to target underage drinkers.
"There has to be intent involved," says Meadows, explaining that if someone purchases a keg and unwittingly serves a minor, there's no violation of the act.
"It's one thing to get a keg and say 'We're going to watch the MSU v. Michigan game and we're getting a quarter-keg, so come over," Meadows continued. "It's another thing... to charge five bucks a a cup and say come in and drink as much as you want."
Kesto said the expense of the cases, and the fear of liability when buying a keg, has lowered the amount of "massive parties" near campus.
"I don't think they're having those anymore," he said. "They have smaller parties."
Kegs filled with low-end beer cost between $45 and $50 each. Purchasers put a deposit on the keg body, which locally averages between $20 and $35. A keg costs between $150 and $300 to manufacture and is reusable.
Kegs are filled with about nine cases of beer. Two cases of cheap beer cost roughly the same amount as a keg of cheap beer.
The law has effectively made it more expensive for students to throw parties.
However, Margie Teall, an Ann Arbor councilperson representing residents that live near Michigan Stadium and town's heavily-populated student area, said she and fellow residents haven't noticed a dip in large parties since the law went into effect in November.
"They probably won't be drinking out of kegs, but they might be drinking cans instead," she said. "I don't think it's changed a lot of the really rowdy parties."
Jim Kosteva, U-M director of community relations, says the college has no "good information" as to whether or not there has been a decline in illegal keg parties since November.
Batwo, owner of the Campus Corner, says beer and liquor sales have increased slightly since the keg law went into effect. He said although keg sales are low, they've rebounded from plummeting lows originally experienced after the law first went into effect last year.
"Last year, come Nov. 1... the people didn't understand the law as much as right now," Bawto said, explaining that the tag paperwork, which store owners say takes between five and 10 minutes to fill out, intimidated some purchasers. "Now students understand it more.
"This year is better than last year," he continued.
Kellie Woodhouse covers higher education for AnnArbor.com. Reach her at kelliewoodhouse@annarbor.com or 734-623-4602 and follow her on twitter.