Posted on
Tue, Jul 26, 2011 : 5:59 a.m.
Roberto Clemente alternative school redefines itself: 'We're really about sending kids to college'
By Ben Freed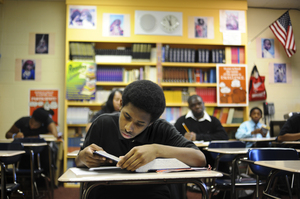 Photo by Melanie Maxwell for AnnArbor.com
(Related story: Roberto Clemente: Focused on closing the achievement gap, one student at a time)
High school graduation missed Roberto Clemente last spring because students at the alternative school in Ann Arbor don caps and gowns to walk with their former classmates at Huron, Pioneer or Skyline.
But that moment when they received their diplomas and looked toward their futures was generated at Clemente.
They spent the school year in the program located on Textile Road near Carpenter, in Pittsfield Township. They learned about following standards, like wearing uniforms. They learned about rules, like showing up on time. They had to bring their parents to an open house.
Their teachers do what it takes to get them into class, and they learn how to focus to achieve the goals set by newer Principal Ben Edmondson.
And during the last school year, the seniors leaving the school also learned about success, with one accomplishment that stands out above the rest: Graduation and acceptance to colleges.
Clemente reached a new milestone in 2011.
"Fourteen out of 15 graduating seniors got in to college," Edmondson boasts. "And nine of them got into four-year institutions."
That compares to 2010, when 16 of 29 graduating seniors were accepted to community colleges, and two actually enrolled.
AnnArbor.com intern Ben Freed spent some time at the school right after graduation, listening to students and staff explain their experiences in the building and what this year's college acceptance rate means to them.
Here is his video report: