Posted on
Mon, Apr 9, 2012 : 11:40 a.m.
Roberto Clemente senior Marcus Buggs has been slipping, determined not to fail
By Pete Cunningham
When Marcus Buggs, an 18-year-old senior at Roberto Clemente Development Center, was profiled by the Detroit Free Press back in January, he received an outpouring of support from readers who were touched by his triumphs over great adversity throughout his life. His struggles included witnessing his father murdered when he was just 9 years old.
But as time passed, not all the help offered materialized, and Buggs, a reserve guard on the Huron High School basketball team, began to slip in school as responsibilities at home demanded more and more of his time.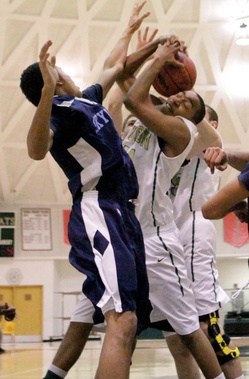 Chris Asadian | AnnArbor.com
Though the road has continued to be rocky, Buggs in the meantime was accepted to Western Michigan University.
The Free Press kept up with Buggs, following him as he was able to tell his mentor, Clemente Principal Ben Edmondson, that he'd been accepted to college and followed the two as they picked out a suit for graduation. As he prepares to go off to college, Buggs also will soon deal with the reintroduction of his mother, who has been incarcerated since 2010, into his life.
Read the entire Free Press story.
More on Roberto Clememte: