Posted on
Fri, Mar 23, 2012 : 9:38 a.m.
Safe Kids Huron Valley offers free child car seat inspection; Girls on the Run executive director wins 2011 ATHENA award
By AnnArbor.com Staff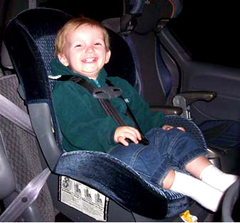 publicity photo from http://michigansafekids.org/
From a free child car seat inspection event to the executive director of Girls on the Run receiving an award for women leaders, here's a roundup of some of the stories posted on AnnArbor.com's Community Wall this week:
By: Susan Garavaglia: Safe Kids Huron Valley Offers Free Child Car Seat Inspection for Parents and Caregivers at Lafontaine Nissan, Highland
On Saturday, April 14, from 10:00 a.m. - 2:00 p.m., Safe Kids Huron Valley's certified Child Passenger Safety Technicians will host a free child car seat inspection for parents and caregivers at LaFontaine Nissan, 2530 E. Highland Road, Highland, Mich.
By: sarah henry: Girls on the Run Executive Director, Danielle Plunkett wins 2011 ATHENA Award
Girls on the Run of Southeastern Michigan announced today that it's executive director, Danielle Plunkett was the recipient of the 2011 ATHENA Leadership Award.
By: Sarah: Supporting Natural Birth in Hospital Settings
By: Justin Fisette: "60 and Better" Health Series: Memory Loss Workshop coming to The Cedars of Dexter
By: Interfaith Council for Peace and Justice: Trader Joe's and The Coalition of Immokalee Workers Sign Fair Food Agreement
By: Jane Ma: AirRide - New Ann Arbor Bus Service To Detroit Metro Airport
By: SRSLY Chelsea: SRSLY St. Patrick's Day Party
By: Chris Kochmanski: Dexter's Tornado Victims Get Help from Daycroft Montessori School of Ann Arbor
By: encreeative: Chelsea High School's Company C Holds Motown Fun-Raiser and Wine Event at The Common Grill to Benefit Sounds & Sights in Chelsea
By: Juile Wikinson: Fundraiser Craft & Vendor Show - Saturday, March 31 - American Legion Hall, Dexter, MI
By: Char Luttrell: Study: Girl Scouting's Benefits Last
By: Emma Jackson: First place finish for YHS Air Force JROTC and Drawings for computers at YHS conferences
By: Nick: GlobeMed at the University of Michigan Benefit Reception on March 30th at 7:00 p.m.
By: Food Gatherers: New volunteer opportunities for busy gatherers!
By: TheEntrepreneurs: The Entrepreneur's Source Launches Start a Business Weekends
By: Debra Johnson: EMU School of Engineering Technology hosts Information Night
By: Mary Alice Smith: Saline's Eggstravaganza
Arbor.com's Community Wall is a spot for local people to post local stories, news and announcements. To post a story, sign in to AnnArbor.com, then go to www.annarbor.com/community and use the Got News? Tell Us function at the top to submit your news. If you have a photo to add, e-mail it to us at community@annarbor.com, and we'll insert it into your story.