Posted on
Sat, Jan 14, 2012 : 5:57 a.m.
Saline high schoolers learn how passion for art can lead to careers
By Danielle Arndt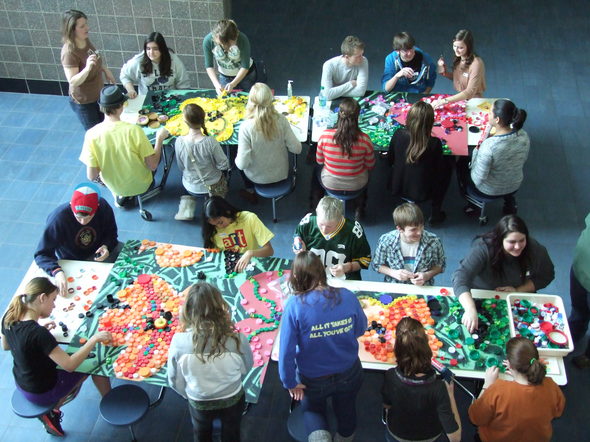 Danielle Arndt I AnnArbor.com
How realistic is a career in art?
That's the question Saline High School students explored Friday with the help of SHS alumni and one local artist.
The first Saline Art Day was the brainchild of two Saline mothers, Angela Schmidt and Deb Brow. Both have children interested in the arts and - not having arts backgrounds themselves - the moms were unsure of how to help their children navigate the post-secondary arts world.
For its first attempt, Art Day drew 75 high schoolers. The students, ranging from freshmen to seniors, attended three sessions from 8 to 11:30 a.m. to learn more about the careers and college programs available to art-minded individuals.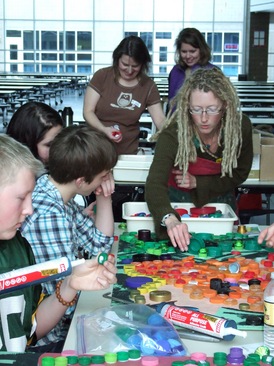 Danielle Arndt I AnnArbor.com
"The biggest thing to remember is to major in whatever is going to make you get out of bed in the morning and go to class. If that's art, then don't worry about what you're going to do with it or what people say," said artist
Valerie Mann
, owner of
WSG Galleries
in
Ann Arbor
.
Mann said in today's economic climate, a student could major in engineering and not be guaranteed a job after graduation.
"So go to college to get an education, not necessarily to get a job," she said.
During her session with students, Mann led the groups in an art project — a bottle cap replication of Andy Warhol's "Flowers" from 1964. The art installation will be displayed in the high school cafeteria once completed.
Five Saline alumni were recruited to speak with students about what it takes to study art in college and the challenges they have faced. They all agreed an Art Day-style experience before enrolling would have been beneficial.
"I wish someone would have been more 'real life' with me," said Amara Karapas, a former Saline student who now studies art at Adrian College. "I needed someone to sit down and tell me this is actually how it is."
The alumni stressed the importance of being well-rounded, getting good grades — not just in art — and taking the ACTs seriously.
"I thought since I was going into art, the rest didn't matter as much. But it does," Karapas said.
"Especially at a liberal arts school," added now University of Michigan art and design student Neil Zemba.
Zemba and Karapas explained they chose a liberal arts education rather than a college specializing in the arts because they were unsure of the path they wanted to take as freshmen.
In contrast, Emily LoPresto, specializing in ceramics, and Carolyn Weber, who is studying illustration, both chose the College for Creative Studies in Detroit because they were certain of their focuses early on.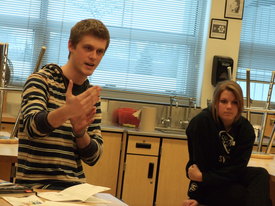 Danielle Arndt I AnnArbor.com
LoPresto and Weber said while four out of five of their courses are studio art courses, their studies are very rigorous and time-consuming.
"It's constant creation," LoPresto said. "So learn now how to effectively manage your time.
"Art school has a reputation for being easy, but it's not," she continued. "You can do your chemistry homework and there's a right answer you eventually find.
"But you do your art homework and there's no right way. So it's very stressful because sometimes something doesn't look quite right and you're unsure how to fix it."
The alumni all said Saline's Advanced Placement Art class helped prepare them for the rigor of art in college.
Eastern Michigan University student Robert Kinsey said it taught him not to be a "needy" artist but to trust in his own instincts and to work independently.
The alumni also stressed the importance of sketching and drawing in both the fine arts and design.
"You at least need to be able to sketch and draw somewhat to get your ideas across," Zemba said.
Danielle Arndt I AnnArbor.com
The students who attended Saline's first Art Day were largely pleased with the experience.
Junior Darby Malloy said Art Day showed Saline cares about the arts, not just math, science and sports. She said she felt encouraged to pursue her passion.
Fellow junior Chelsie Leathers said she wished there had been some discussion about photography, the particular medium she is most interested in.
Representatives from the Art Institute of Michigan and the Kendall College of Art and Design also were present to speak with high schoolers.
Staff reporter Danielle Arndt covers K-12 education for AnnArbor.com. Follow her on Twitter @DanielleArndt or email her at daniellearndt@annarbor.com.