Posted on
Sun, Mar 25, 2012 : 4:10 p.m.
Exhibits and collections are stimulating and fun
By Leslee Niethammer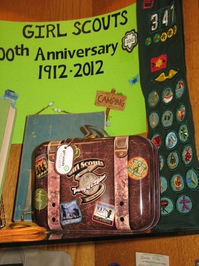 Even though the Saline District Library boasts a lending collection of more than 90,000 items, did you know that libraries began by being non-lending collections? The first libraries were archival collections. They were repositories rather than lending facilities, preserving their collection items (traditionally some form of writing) for posterity.
But as libraries evolved, they started collecting more than just books. Today there are map libraries, art libraries, artifact libraries and libraries with collections of musical instruments, to name but a few.
Sometimes libraries display portions of what they have collected, perhaps to present a theme or in honor of a particular event. The Saline District Library also has collection exhibits. Uniquely, though, they are not library-owned exhibit pieces, but rather community collections, and they can be viewed in one of five different exhibit kiosks.
One of the adult kiosks currently displays prism glass tiles from the late 1800s. The other kiosk presents an arrangement of bunnies that will appeal to many ages. Previous adult displays have included Daddy Longleg Dolls, labyrinth collections, tea leaf china, playing cards - both antique and contemporary, Gone with the Wind memorabilia, and historic locks and keys.
The Youth Department exhibit kiosks are very popular. Young patrons sometimes wait patiently up to 6 months for their turn to display a collection. The kiosks are a familiar check-in stop for young patrons coming into the Youth Department for other reasons. Currently on view: horses (with other supplementary animals), a Girl Scout exhibit (in honor of the Girl Scouts' 100th Anniversary), a Junior Ranger and National Park exhibit, and a Littlest Pet Shop collection.
Previous youth displays have included erasers, superballs, a Great Lakes exhibit, a naturalist's collection (including a deer jaw, fox pelt and similar items), a farm collection, and a perennial favorite - Legos.
Visit the ever changing displays at Saline District Library, 555 N. Maple Road, (734) 429-5450, www.saline.org or Facebook.
Audra Eddy is a Youth Librarian for the Saline District Library.