Posted on
Fri, Feb 3, 2012 : 11:30 a.m.
Saline Mayor Gretchen Driskell explores run for state representative
By Lisa Allmendinger
Gretchen Driskell , Saline's longest-serving Mayor is considering a run for state representative as a Democrat and is forming an exploratory committee.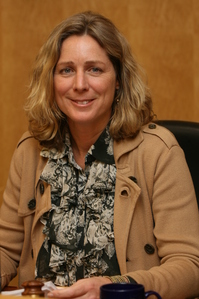 Lisa Allmendinger | AnnArbor.com
Driskell, 53, is considering challenging
Mark Ouimet
, of
Scio Township
, a first-term Republican representative in the 52nd District, which encompasses all of western Washtenaw, as well as the City of Saline and Saline Township.
"I thought about running two years ago," Driskell said, and was approached this year when Christine Green decided not to run for the seat. Green lost the election to Ouimet in 2010.
"I was asked to consider it, and I'm looking at it very seriously," said Driskell, who is up for re-election this year.
Saline's elections are non-partison, but Driskell, calling herself a moderate, said she is "most closely aligned with the Democrats."
"I'm very pro-business," she said. "Some of the votes that the Republicans have taken I don't agree with."
Through her 14 years of experience as the mayor of Saline and her job as a commercial real estate broker with Swisher Commercial, Driskell says she knows "what it takes to bring business to a community," and thinks that the business tax cuts are "out of balance."
Driskell said she has until May to decide, and she is working on an election platform that includes education, jobs, and the economy.
"I am concerned about the future of the state and the long-term impact of the decisions that are being made right now," she said.
She said it's still too early in the process to cite specifics.
"I'm still in exploratory mode," she said, "And I'm talking to people to see what kind of support I have."
Driskell, a mother of three children, ages 17 to 24, has served on numerous national, state and local boards including the National League of Cities, the Michigan Municipal League, the Southeast Michigan Council of Governments and the Washtenaw Area Transportation Study.
So far, she says, the response she's gotten from people has been very positive. Including her family. "They're all for it."
Lisa Allmendinger is a regional reporter for AnnArbor.com. She can be reached at lisaallmendinger@annarbor.com. For more Saline stories, visit our Saline page.