Posted on
Mon, Apr 9, 2012 : 3:09 p.m.
"In Full Bloom" art program at Saline District Library April 22
By Leslee Niethammer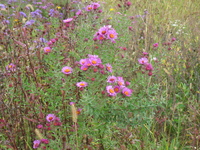 Interested in learning a little more about art history? Attend a presentation by a representative from the Detroit Institute of Arts speakers bureau entitled "In Full Bloom: Flowers and Plants in Art," at 2 p.m. on Sunday, April 22, in the Brecon Room of Saline District Library, 555 N.Maple Road.
Celebrate spring by taking a visual tour across continents and through history to discover the special meanings of flowers and plants in art. Registration is requested; please call 429-5450 or stop by the library to sign up.
In addition to learning more about art, you can also enjoy seeing the real thing at the library. Library walls always feature art by local artists of all ages, but April is a special month for displays. This year marks the 11th annual "Watercolor Paintings in the Library," an exhibit of original watercolor paintings by students of Taylor Jacobsen's Saline Community Education Transparent Watercolor Class. Come see flowers, plants, and a whole lot more throughout the month of April.