Posted on
Tue, Jan 3, 2012 : 2:02 p.m.
Man accused of beating police officers during arrest
By Kyle Feldscher
The preliminary examination for a Saline man accused of beating police officers while they attempted to arrest him for suspicion of drunken driving was delayed Tuesday.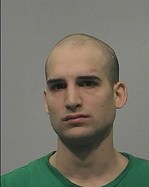 Courtesy of the Saline Police Department
John Craigmile, 24, has been arraigned on charges of assault with a dangerous weapon and assaulting, resisting or obstructing a police officer for an incident early on Christmas morning. Craigmile was originally scheduled to be in court for a preliminary examination at 8:30 a.m. Tuesday. Court officials did not have the date of Craigmile's next court appearance immediately available.
Saline police said Craigmile was traveling west at about 12:40 a.m. on Dec. 25 on Henry Street when Saline police officer Ashley Kofahl began driving behind him. According to the police report, Kofahl observed Craigmile driving erratically and speeding as he headed toward his home in the 200 block of McKay Street.
The report stated Kofahl turned on her emergency lights and attempted to pull Craigmile over after she saw him drive his 2002 black Ford Explorer through a stop sign. Police allege Craigmile continued to speed before arriving at his home, where he ran over the curb twice while parking his vehicle.
Kofahl said in the report that Craigmile ignored three of her requests for him to stay in the vehicle and got out. Kofahl then stopped him near the rear of the Explorer. Kofahl said in the police report that Craigmile had bloodshot and watery eyes, smelled of alcohol and was speaking in a slow and slurred manner.
Craigmile got his wallet out of his pocket after being asked for identification, according to the police report, but then stated, "I don't have my wallet." He still gave his driver's license to Kofahl, according to the report.
After Kofahl requested backup, Officer Dennis Gruschow arrived. The police report stated Craigmile attempted to walk to the house, but was stopped by Kofahl, who grabbed him on the arm. Craigmile then began pushing the officers and attempting to pull away from them to go inside, the report stated.
The report states the officers took Craigmile to the ground in an attempt to subdue him, but that he threw punches at their heads and bodies. Kofahl was sitting on Craigmile's back while Gruschow attempted to secure his arms, but Craigmile's strength made it impossible for them to subdue him, the officers said in their report.
At one point during the struggle, the police report stated Gruschow's flashlight fell to the ground, which Craigmile then took and used to strike the officers repeatedly. The officers wrestled the flashlight away from Craigmile, but he continued to fight them, the report stated.
At this point, Craigmile's father came out of the home and began speaking to his son in an attempt to calm him down, the report stated. After a short while, Craigmile allowed police to place him under arrest, according to the report.
The struggle lasted about three-and-a-half minutes, the report stated.
Craigmile refused to submit to a breath or blood test after his arrest, and a search warrant was sought and approved for a blood test, the report stated. The analysis of that test is ongoing.
Gruschow's glasses were bent during the fight and his mouth was bleeding after the struggle, the report stated. Kofahl suffered contusions on her knees and other parts of her body and went to the emergency room later on Dec. 25, according to the report.
Jail records show Craigmile is not lodged at the Washtenaw County Jail.
Kyle Feldscher covers cops and courts for AnnArbor.com. He can be reached at kylefeldscher@annarbor.com or you can follow him on Twitter.