Posted on
Sun, Jan 29, 2012 : 5:57 a.m.
Man accused of robbing Saline Domino's, attempting to escape custody may be robbery suspect in Tecumseh
By Kyle Feldscher
The man accused of robbing a Saline Domino's and then attempting to escape from police custody while at an area hospital may be a suspect in two robberies in Tecumseh, according to police.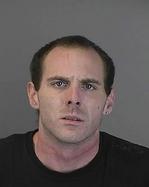 Courtesy of the Saline Police Department
According to the Saline police report, the department is working with Tecumseh police officers to determine if Robert Neibler, 27, is a suspect in two robberies committed this month.
According to the Adrian Daily Telegram, the first robbery occurred at 9 p.m. Jan. 19 at the Fabricare Laundromat, 115 Herrick Park Drive. The second robbery occurred the next day at about 5 p.m. at 208 E. Chicago Blvd, the paper reported.
The suspect in both cases is described as a white man who entered the businesses with a knife and demanded money from the employees and left with an unknown amount of cash, according to the Daily Telegram.
According to Saline police, Neibler left a drug rehab center in Ann Arbor and was driven by a woman to the Domino's, at 401 E. Michigan Ave. in Saline. Police said Neibler got out of the car and entered the store, where he told an employee that he had a gun and demanded money from the register.
Police said Neibler got back into the car and instructed the woman to drive away. Police pulled the truck over a short time later as it was heading north on Maple Road. He was arrested on scene, according to the police report.
Neibler was charged with armed robbery Tuesday and is being held at the Washtenaw County Jail on a $125,000 bond.
According to the Washtenaw County Sheriff's Office, Neibler attempted to escape police custody early Wednesday when he was taken to St. Joseph Mercy Hospital.
At about 12:30 a.m. Wednesday, Neibler assaulted an officer escorting him to a restroom, according to police. He attempted to remove the officer's gun from its holster and a struggle ensued before Neibler was restrained. Another officer assisted in subduing Neibler, according to police.
Neibler was at the hospital to be treated for self-inflicted injuries, according to police.
He has prior convictions for breaking and entering and uttering and publishing.
Neibler will be back in court for a preliminary exam on Jan. 31
Kyle Feldscher covers cops and courts for AnnArbor.com. He can be reached at kylefeldscher@annarbor.com or you can follow him on Twitter.