Posted on
Tue, Feb 7, 2012 : 5:57 a.m.
Man who attempted to distract police while he stole Vicodin pleads guilty
By Kyle Feldscher
The man who attempted to throw off police by reporting a fake break-in while he stole Vicodin from a pharmacy pleaded guilty to all charges last week.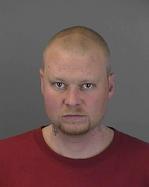 Courtesy of Saline police
Dustin Flodin, 29, pleaded guilty on Jan. 31 in front of Washtenaw County Trial Court Judge Donald Shelton to two counts of breaking and entering with intent to steal and one count of filing a false police report, according to court records. He will be sentenced at 1:30 p.m. March 6.
Flodin called police early on Jan. 5 to report a man breaking into an apartment in the 700 block of Valley Circle Drive, according a police report. Flodin told police one man was trying to break into a gold Chevrolet Cavalier and two other men were attempting to break into the apartment.
However, upon arriving at the apartment police discovered the occupant was asleep and had not called police, the report stated.
While talking with the actual occupant of the apartment, police were dispatched to the Saline Pharmacy, 75 East Bennett St., for a report of a break-in. When they arrived, police found that Vicodin had been stolen from behind the counter.
According to the report, Flodin's black knit cap was found east of the pharmacy by a K-9 unit from the Washtenaw County Sheriff's Office. He was arrested during the afternoon of Jan. 6.
Flodin admitted to police he had been involved in a similar break-in at 1:56 a.m. Dec. 25, where he also stole Vicodin.
Kyle Feldscher covers cops and courts for AnnArbor.com. He can be reached at kylefeldscher@annarbor.com or you can follow him on Twitter.