Posted on
Sat, Feb 11, 2012 : 1:23 p.m.
Polished Salon donates services Sunday to help former coworker
By Lisa Carolin
It was just more than two weeks ago that Anne Taritas was living a busy life working at Luminosity Salon in Saline and enjoying life with her husband and two sons.
When a client advised her to seek medical attention for some unusual bruising, Taritas did so - and a blood test revealed that she had acute lymphatic leukemia.
"This is completely out of the blue," said Taritas. "I was painting my living room, cooking and cleaning the night before. Everything was normal, and then it was snatched from me."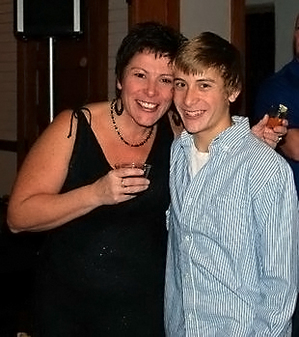 From Shelley Tessmer
The 49-year-old immediately checked into St. Joseph Mercy Hospital Ann Arbor, where she has completed one round of chemo therapy and is in the midst of another.
Her doctors want her to stay in the hospital for 30 days because she is highly vulnerable to getting sick.
"If I were 15-years-old, I would have a 90 percent chance of recovery, but the numbers drop as you get older," said Taritas. "It's extremely unusual for someone my age to get this diagnosis.
"I'm glad that I'm here in Michigan, where there are many doctors experienced at treating it."
As suddenly as Taritas learned she had to fight the disease, her friends banded together to support her.
On Sunday, Feb. 12, former co-workers from the area are putting on a fund-raiser for Taritas. It will take place at The Polished Edge Salon in Ann Arbor, and 100 percent of all sales that day will go to the Taritas family. Discounted services include haircuts and washes, mini manicures, waxing, and chair massages.
"Anne is friends with many people at The Polished Edge Salon and we are also bringing people in for the fundraiser from Delia's Salon, Arbor Hills Hair and Body Salon, and Tricho," said Ashli Benn, manager of Polished Edge Salon.
"We wanted to do something as soon as possible to help," she said. "Anne is worried about not working and scared of losing her house."
Taritas family friend Shelley Tessmer, who is keeping a CaringBridge web site up to date about Taritas' condition, is thrilled about Sunday's fundraiser.
"We're showing her how much we love her Sunday," said Tessmer. "If anyone's going to beat this, it's going to be Anne. Words cannot express the pain in my heart for what my friend is going through right now."
Tessmer encourages people to donate blood to the Red Cross and to sign up for the national bone marrow registry, both of which she says will benefit Taritas and others who suddenly learn they may need life-saving treatments.
It's another rallying cry for friends of Taritas as their friend digs into her fight.
"It blows my mind how much support people are giving me," said Taritas.
The fundraiser will run from 10 a.m.-3 p.m. Sunday. The Polished Edge Salon is located at 882 West Stadium Boulevard in Ann Arbor.