Posted on
Fri, Jan 28, 2011 : 6 a.m.
Concern over possibly injured swan in Saline's Mill Pond Park highlights conflict over non-native species
By Lisa Allmendinger
A mute swan that may be injured in Saline's Mill Pond Park has prompted residents to help the wild bird, a species considered a destructive pest by the state Department of Natural Resources.
Carol Akerlof, executive director of the Bird Center of Washtenaw County, Inc., said she's received numerous calls about the bird from concerned Saline residents.
The Saline Police Department and the city's Department of Public Works have also received calls.
Akerlof said she'd like to help the mute swan, but as a licensed wildlife rehabilitator, she's in a quandary because of current and proposed state regulations.
If the mute swan is ill and she captures it for rehabilitation, by law she's required to have its wings "pinioned," so it can't fly, and have it neutered — all at her own expense. And she's not sure what those costs might be.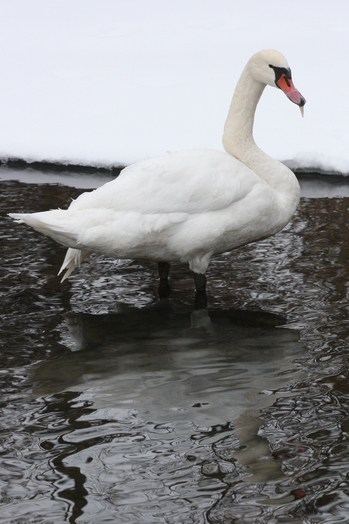 Lisa Allmendinger | AnnArbor.com
Earlier this month, she received a letter from the state saying that if a new law is adopted, rehabilitators will no longer be allowed to help injured mute swans. Instead, the birds must be euthanized to reduce their population. Mute swans compete with native breeding waterfowl such as trumpeter swans, Canada geese and ducks, according to information from the state.
"People call a wildlife rehabilitator to help wildlife," she said.
The bird center relies on donations for its work, and the center's 90 volunteers and summer student interns take about 2,000 calls a year. In 2009, they handled 830 birds.
"Rehabbing birds is stressful for the bird and you don't want to do this unless there's a pretty good chance that it can be released," Akerlof said.
Her first call about the swan came Sunday from a resident who was concerned that the bird's beak was frozen shut. Since then, calls about the swan have included news that the bird was seen eating corn and organic lettuce — food brought by concerned residents.
On Monday, she got a report that the bird had gone into the Mill Pond parking lot, and Thursday, Akerlof received a call that it was spotted at a stop sign near Houghton School.
But most residents don't know the difference among the common swan species found locally.
"For most people, it's a white bird and a swan is a swan," Akerlof said.
In fact, even experts have trouble discerning a young mute swan from other white swans, Akerlof said. But once the bird is older, a mute swan's beak turns orange.
In the summer, there are usually two pairs of mute swans at Mill Pond Park, she said, but in the winter, these swans tend to head to open water.
According to Barbara Avers, waterfowl and wetlands specialist for the state DNR, mute swans compete with state-threatened common loons and other birds for nesting areas. As the mute swan population has grown, so has the bird's "level of conflict with humans," Avers said in a Jan. 24 e-mail. Mute swans are not native to North America, though Michigan has one of the highest populations of the species on the continent. They destroy aquatic vegetation, which feeds native waterfowl and other wetland species, Avers said.
Avers said the state is looking at how to address the mute swan problem, including removing the animals from native habitat. There are an estimated 15,500 mute swans in Michigan. In 2000, there were about 5,400, according to DNR records.
But state regulators and the public sometimes do not see eye-to-eye on the swan issue, Akerlof, the rehabilitator, said.
If the new state regulation is approved by the Natural Resources Commission on Feb. 10, she said, she must follow the rules or risk losing the license she's had since 1984.
"Perhaps a compromise stance on these swans can be found," Akerlof said.
As for the Mill Pond mute swan, Akerlof hopes that residents will continue to feed the bird close to the water so it can regain its strength and stay away from the road.
In addition, she hopes that next month's vote on the swan's fate can be put on hold while regulators explore other remedies to reduce the population — one that won't put rehabilitators in the awkward position of telling people to let badly injured mute swans die — or to take them in but face having the animals euthanized.
Lisa Allmendinger is a reporter with AnnArbor.com. She can be reached at lisaallmendinger@annarbor.com. For more Saline stories, visit our Saline page.